Welcome to the Central Kootenay Invasive Species Society
British Columbia is the most ecologically diverse province in Canada making the Central Kootenays a beautiful place to work, live and play. The Central Kootenay Invasive Species Society (CKISS) strive to keep our lakes pristine, forests lush, mountains healthy and economies thriving through education and managing invasive species in an effecive way.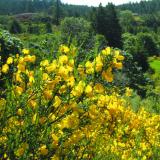 What are Invasive Species?
Invasive species are non-native plants and animals that become well established because they do not have any natural predators or controls.
These introduced, non-native species spread quickly and have the ability to outcompete native plant and animal species, impacting fragile ecosystems.
Have been introduced to Canada either intentionally or acccidently. Human behaviour is the #1 contributor to the spread of invasive species
Impacts of Invasive Species:
Outcompete native plant and animals, they are the second greatest threat to biodiversity globally
Worldwide the estimated damage from invasive species totals more then $1.4 trillion, this is 5% of the global economy
Threaten our food, drinking water, recreation opportunities and health
In 2005 a group of concerned local citizens, land managers, government and company representatives joined forces and created CKISS. The vision of this non-profit society is to minimize the impacts of invasive species on the ecosystems, communities and economy of the Central Kootenay region. CKISS has a collaborative approach to invasive species management. A primary goal of the society is to prevent further introduction and spread of invasive species through education and awareness, early detection and control.
Get Involved