The Central Kootenay region has numerous pristine lakes and rivers to enjoy. They have created endless recreation possibilities for people of all ages. Invasive species are most commonly introduced and spread from one waterbody to another through human transportation. Aquatic invasive species can act as hitchhikers and latch themselves onto watercraft and gear.
Impacts of Zebra & Quagga Mussels
Drastically alter food webs, affect spawning areas, and decrease biodiversity.
Increase costs associated with maintaining infrastructure related to power generation, sewage, and water facilities.
Damage shoreline property and equipment.
Affect recreation possibilities by cutting swimmers with their sharp shells.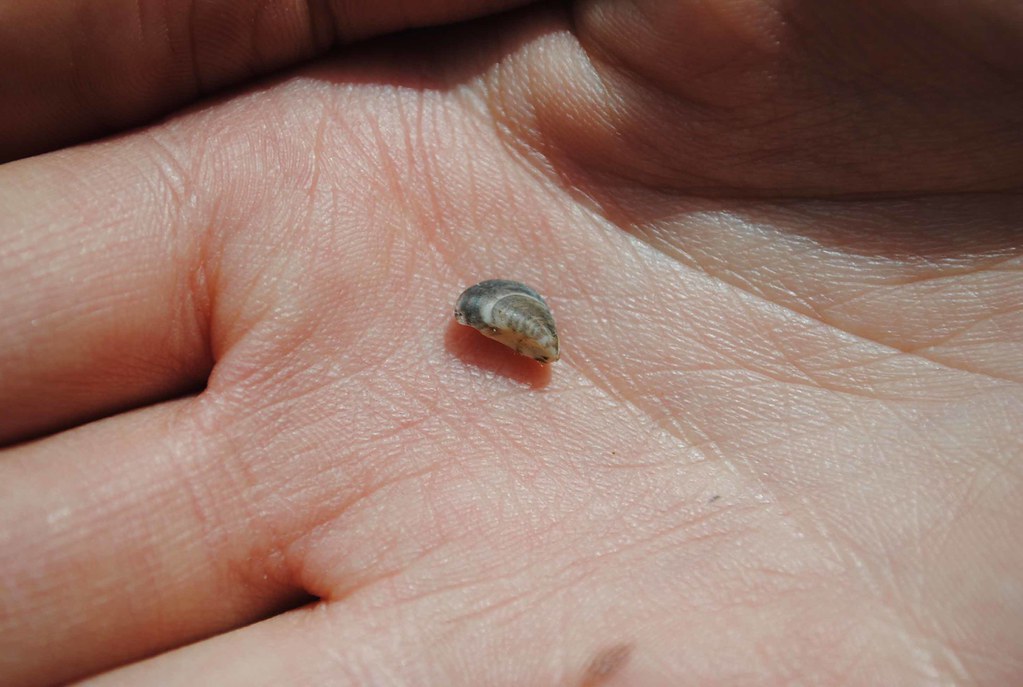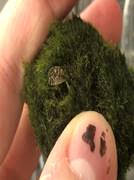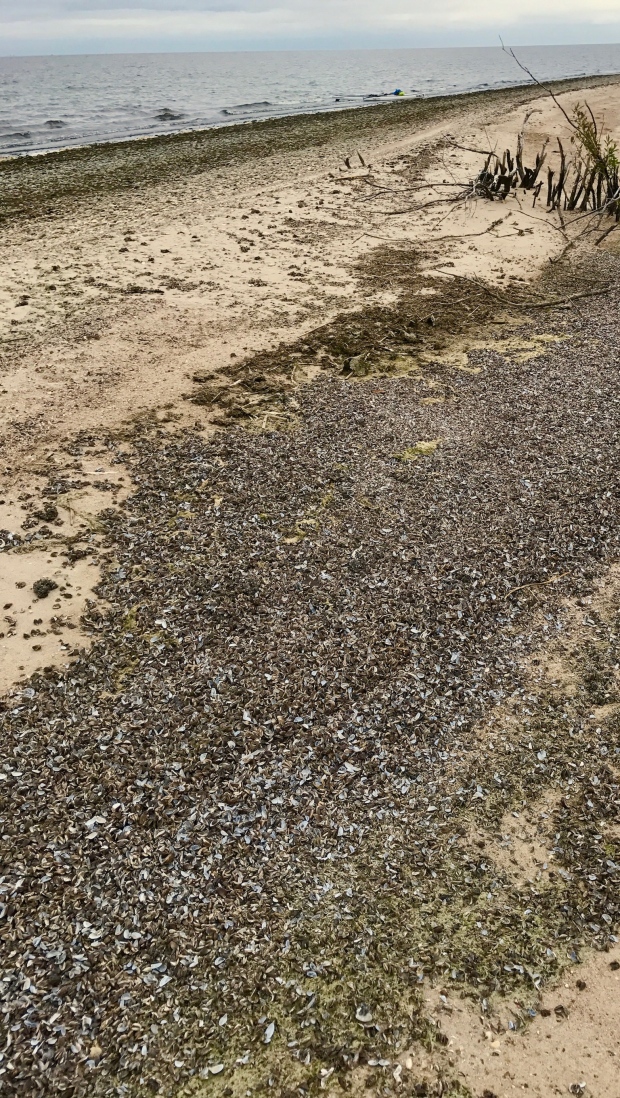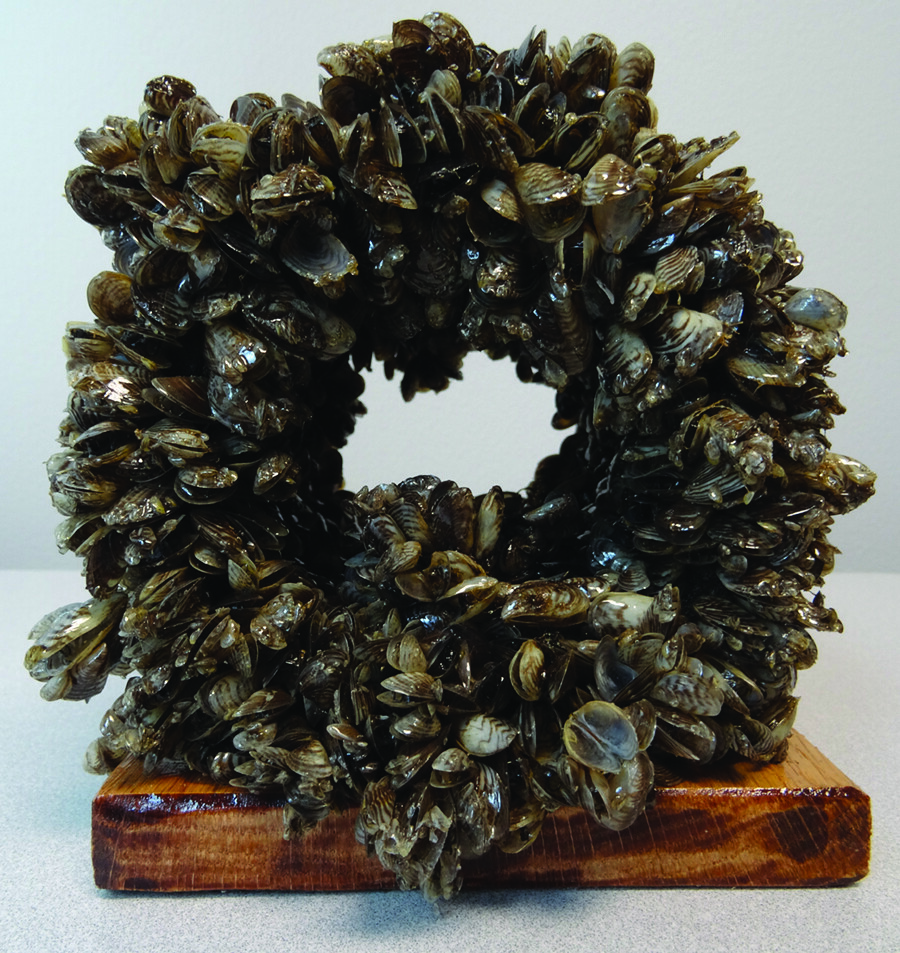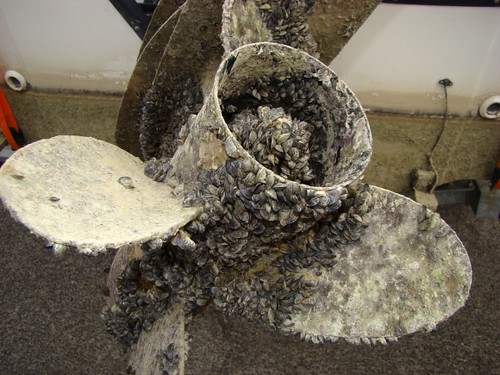 No bigger than your fingernail, these tiny mussels can cause huge problems. D-shaped shells can be brown with jagged dark brown/black stripes.
Zebra mussels have been found in aquarium moss balls. Do NOT empty your aquarium into lakes or other water systems!
Zebra mussels cover the shoreline of a beach on Lake Winnepeg.
ZQM can quickly colonize important underwater infrastructures.
ZQM can damage personal watercraft, as well as infrastructures like hydroelectric dams and municipal water supply systems.
Does your boat need DECONTAMINATION or Clean, Drain, Dry?
Currently, there are no reported waterbodies in B.C. contaminated with zebra or quagga mussels; however, if you have been to any infested provinces or states in the last 30 days, you might need to have your boat decontaminated before re-entering British Columbia waters. If you have not visited any infested provinces or states in the last 30 days, it is still important to Clean, Drain and Dry your boat when moving it from one body of water to another to prevent transporting other aquatic invasive species.
Has your watercraft been outside B.C. in the last 30 days? If yes, then your watercraft might be transporting invasive zebra or quagga mussels. Help protect B.C. waters from these devastating aquatic invasive species:
DO NOT attempt to clean the watercraft yourself.
Your watercraft may require decontamination.
Call 1-877-952-7277 (RAPP line).
IT IS ILLEGAL TO TRANSPORT INVASIVE SPECIES in BC!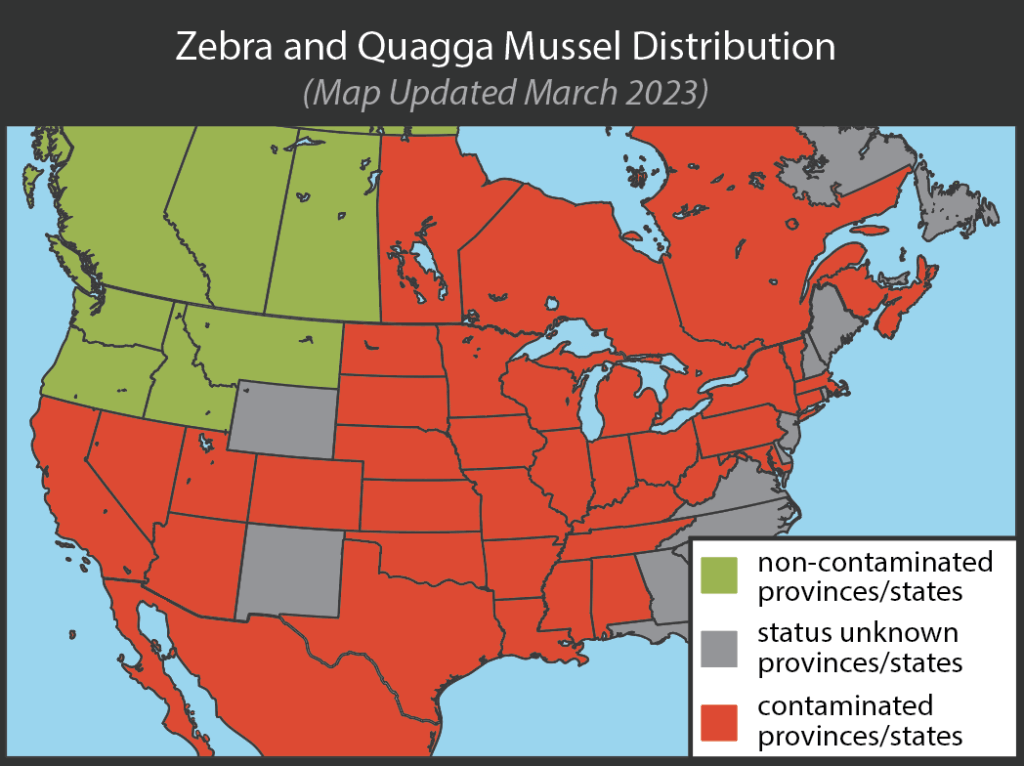 To learn which provinces and states are contaminated with zebra or quagga mussels visit the USGS website. Maps of zebra and quagga mussels sighting are updated regularly.
What can YOU do to Help?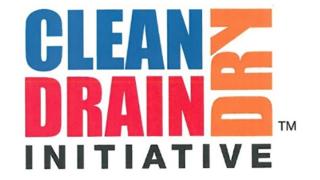 CLEAN your watercraft and equipment.
After an enjoyable day on the water, spend the time inspecting your watercraft and all of your gear for any signs of plant or animal materials. Invasive hitchhikers can be anywhere, so look in all the nooks and crannies. It is not just motorized boats that can transport invasive species: canoes, kayaks, paddle boards, floaters, oars, lifejackets, fishing gear, just to name a few, need to be cleaned as well. Rule of thumb: if it touches water, it needs to be cleaned. Clean off all mud, dirt, plants, and aquatic species.
DRAIN onto dry land any item that can hold water (e.g. bilge, ballast, wells, buckets).  Leave the drain plug out to ensure the bilge can dry.
DRY all items completely before launching the watercraft into another body of water.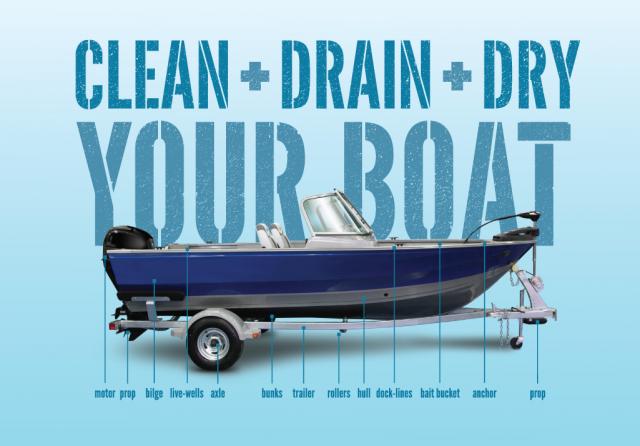 Download the NEW Clean Drain Dry app. It's FREE!
Boatwash Locations
If your watercraft has only been to a green coloured state or province, there are several commercial car wash stations located in the region that make it easy to take your boat to for a deep clean. If a commercial car wash is not available, then a little elbow grease, hot water, and scrub brush will do the trick. Invasive hitchhikers can be anywhere, so look in all the nooks and crannies!

Boatwash Locations in the Columbia Basin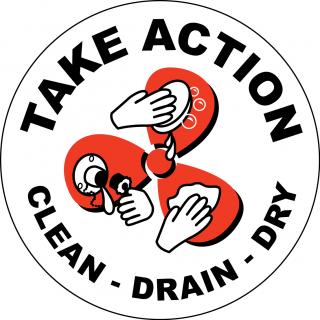 Help prevent Whirling Disease from entering B.C.
In August 2016, Canada's first case of whirling disease was confirmed at Johnson Lake within Banff National Park. Alberta's Bow River, Red Deer and Oldman River watersheds have now been declared infected with whirling disease by the Canadian Food Inspection Agency, and the rest of the province declared a buffer zone. The disease devastated wild trout populations in the Western United States in the 90's, but its effects on fish populations can vary.
Whirling disease is caused by a microscopic parasite (Myxobolus cerebralis) that infects both fish and freshwater worms during different phases of its lifecycle. In fish, the parasite affects the cartilage near the spine, leading to skeletal deformities of the spine or skull. This causes the fish to abnormally whirl in a tail-chasing behaviour and/or display a blackened tail. Whirling disease can cause a large number of mortalities in susceptible fish populations (trout, salmon, whitefish) potentially killing up to 90% of juveniles; however, not all populations or species may be affected to the same level.
You can download the Whirling Disease Fact Sheet to learn more information and get tips on how the simple act of Clean, Drain, Dry can stop this disease from entering B.C. waterways.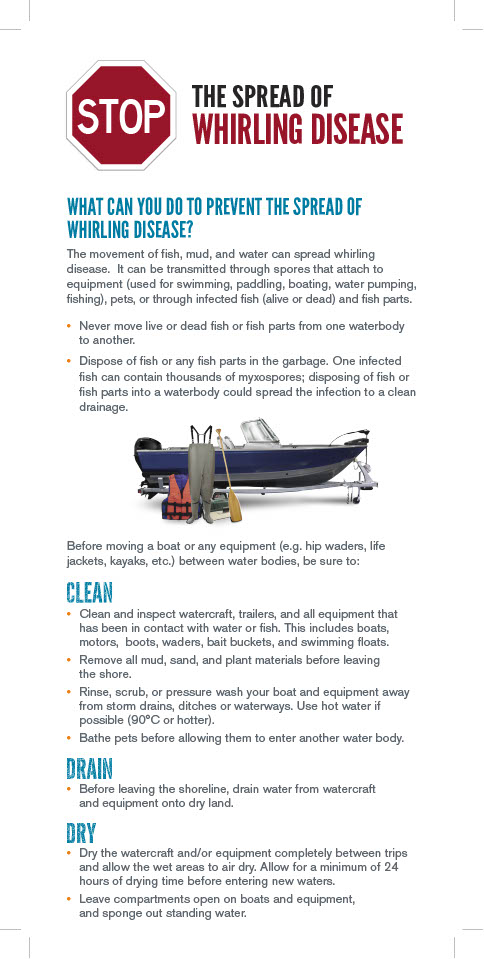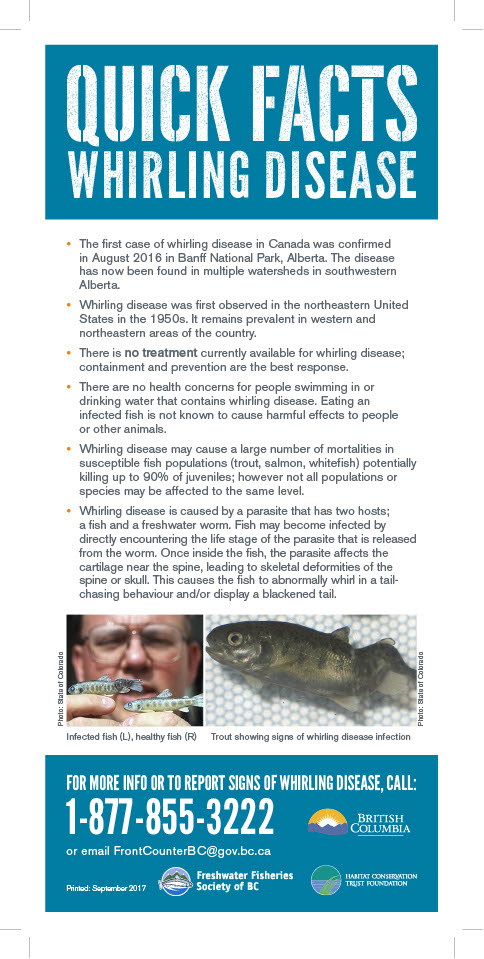 Factsheet: Stop the Spread of Whirling Disease.
Quick Facts of Whirling Disease.