Dear CKIPC members and partners,
The Board of Directors is pleased to announce the appointment of Jennifer Vogel as Executive Director of the Central Kootenay Invasive Plant Committee (CKIPC), effective February, 23, 2015.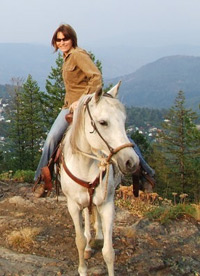 Jennifer has been working with the CKIPC for the last six years, starting as an Outreach and Education worker before becoming the Program Manager.
Over the years, Jennifer has developed, coordinated and expanded the Operational and Education and Outreach programs for CKIPC. She has built and maintained effective relationships both internally and externally with community and regional partners within the CKIPC region.
Jennifer is extremely well qualified to lead and guide CKIPC with continued success into the future while maintaining the achievements that the former Executive Director has established. Please join us in congratulating Jennifer in her new position.
Jennifer succeeds Crystal Klym, who has taken on an exciting opportunity with the Fish and Wildlife Compensation Program. We would like to again take this opportunity to thank Crystal for all of her hard work and dedication with the CKIPC and wish her the best in her new endeavors.
Regards,
Laurie Carr,
President, Central Kootenay Invasive Plant Committee