Are you interested in native plants? Would you like to learn more? The Kootenay Native Plant Society's mission is promoting knowledge, appreciation, conservation and restoration of West Kootenay native plants and natural habitats through education, research, and on-the-ground activities.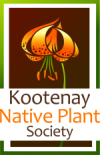 Kootenay Native Plant Society 2015 AGM and Talks
Selkirk College, Castlegar
October 20th, 7pm
Free with refreshments
7:00pm to 8.30 pm
Speakers – 7:00pm – 8:30 pm
Doris Hausleitner Nelson Riverfront Restoration
Valerie Huff Milkweed and Monarchs
Please join us to learn about these successful projects from our invited speakers.
AGM 8:30pm-9:00pm
You might be just the person we looking for to join our board of directors!
Get in touch if you have any questions about our society or if you are interested in joining the board of directors.
Valerie Huff and Eva Johansson
Kootenay Native Plant Society