ALIENS AMONG US: A Book that will open your Children's Eyes
Looking for the perfect gift that will inspire the next generation of environmentalists? Kids can unwrap the book "Aliens Among Us" by Alex Van Tol under the tree this year and be alerted to what impacts invasive species have. There are over 4000 alien species that have made it to BC most likely by a human pathway. The book highlights 50 different plants and animals from all areas in B.C., from the cute and cuddly to the strange and prickly.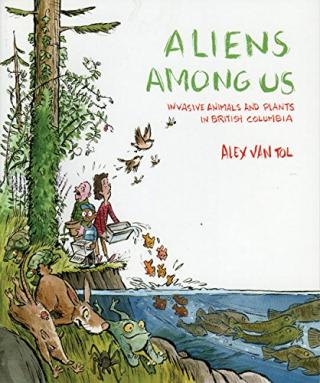 Aliens Among Us, a Royal BC Museum exhibit that highlighted non-native species in BC has now inspired their first ever children's book. The book explains how the invaders got to BC and what effects they are having on the environment.
"An invasive species is one that has a steady march forward and it kind of chews through everything in its path." states Val Tol.
"I went with the [species] readers would be most interested in, the ones that are more familiar to kids, but I also wanted to showcase the ones that were the most destructive," Van Tol said.
We can't wait to get our hands on a copy of "Aliens Among Us", we want to share the book with the next generation so they will be equipped with the tools to stop the spread of alien species.
The book can be used in conjuctin with the "Alien Among Us" website to track the new animal and plant arrivals, meet the ones that are already here or to ask an expert any questions you have.