Did you know that Creston is at risk of invasion by American Bullfrogs?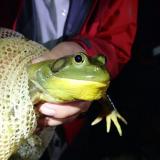 Bullfrogs have been found in Idaho, just south of the border!  If they reach the Creston area, these voracious predators could have major impacts on the amazing biodiversity of our area.
Bullfrogs prey on, and out-compete, native frog species, including the endangered Northern Leopard Frog and the protected Pacific Chorus Frog and Columbia Spotted Frog.
The only population of Northern Leopard Frogs in the Northern Rockies is in Creston… and they are now threatened by Bullfrogs!
Bullfrogs also eat native snakes, ducklings, sometimes even kittens!
We need your help to prevent a Bullfrog Invasion!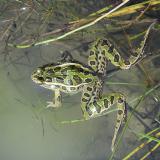 Join us on June 21st at the Creston Valley Wildlife Management Area Visitor Centre to connect and learn:
What we are doing about the Bullfrog threat
How to identify Bullfrogs
How you can help!
 To report sightings or calls heard: Phone 1-250-354-6333 or email kootenaybullfrog@gov.bc.ca.  When reporting sightings, please note where and when you spotted it and take a photo if possible.