Do you want to minimize the impacts of invasive species on the ecosystems, communities, and economy of the Central Kootenay region? Do you have extensive knowledge of natural resource management, experience leading a non-profit organization, and proven fundraising experience for on-the-ground activities? Do you possess strong communication and leadership skills? If you do, then there is an exciting opportunity for you to lead the team at CKISS!
POSITION: Executive Director, Central Kootenay Invasive Species Society
LOCATION: Worksites within the Regional District Central Kootenay and Regional District Kootenay Boundary Area A and B. The Executive Director will preferably work out of the Rossland office or may work out of a home based office within the CKISS region (http://ckiss.ca/about/purpose/)
TERM: Permanent, salary of $74,500, dependent on experience (37.5 hours per week)
APPLICATION DEADLINE: November 30, 2018 at 4:00 pm
INTERVIEW DATE: December 14, 2018
START DATE:: January 2, 2018 or as mutually agreed upon
 SUMMARY:
The Executive Director is the key management leader of the Central Kootenay Invasive Species Society (CKISS). The Executive Director is responsible for overseeing the administration and programs of the organization and executing the strategic plan of the organization. Other key duties include fundraising, marketing, and community outreach. This position requires a high level of professionalism, communications skills, and leadership. As an ideal candidate you will be self-motivated and have strong team building, leadership, organization, extension and conflict resolution skills. You will have an extensive knowledge of integrated pest management, with proven experience in on-the-ground activities. In addition, you will have proven leadership skills and the ability to work collaboratively with a team. You will be directly supervising multiple staff and contractors. Organization will be key to your success. The Executive Director reports to the Board.
In order to be considered for this position, your application must clearly demonstrate how you meet the education, experience and professional designation requirements as outlined below:
Master of Science in Natural Resource Management or a related field (e.g. Range Sciences, Biology or Environmental Sciences) with at least three years of related experience; or a Bachelor of Science in one of these fields with at least 5 years of related experience.
Registered, or eligible for full registration, as a Professional Agrologist with the BC Institute of Agrologists or as a Registered Professional Biologist with the College of Applied Biology.
Operational experience in invasive species management, program management, and contractor management.
Experience negotiating/mediating solutions in natural resource management.
Experience working with multi-disciplinary issues in natural resource management.
Experience working with a non-profit organization.
KEY ACCOUNTABALITIES:
Board Governance
Works closely with, and reports to, the Board of Directors.
Responsible for communicating effectively with the Board and providing, in a timely and accurate manner, all information necessary for the Board to make informed decisions.
Responsible for leading CKISS in a manner that supports and guides the organization's mission as defined by the Board of Directors and membership.
Human Resource Management
Provide leadership and guidance to CKISS Coordinators (Currently: Education Program Coordinator, Aquatic Invasive Species Program Coordinator, Operations Program Coordinator and Executive Assistant).
Plan, direct and coordinate all aspects of human resource relations, including hiring, training, agreements, performance reviews, contract negotiation and payroll, under the guidance of the Hiring Committee and Board.
Manage the Employee Handbook, Board Handbook and all other associated policies and procedures.
Organization Operations
Responsible for implementation of CKISS programs that carry out the organizations mission and purposes.
Direct and contribute to the implementation of the 5-year strategic plan and fundraising strategy.
Act as the lead on communications with funders, stakeholders, media and the public.
Development and Fundraising
Responsible for fundraising and developing other resources necessary to support CKISS's vision and purposes.
Build and maintain relationships with all stakeholders.
Maintain funding and donor tracking records.
Financial Management
Prepare for the Board a proposed annual budget and quarterly financial statements, which accurately reflect the financial condition of the organization.
Be responsible for fiscal management that operates within the approved budget, ensures maximum resource utilization, and maintains the organization in a positive financial position.
QUALIFICATIONS
Required Experience and Knowledge
Self-motivated and results oriented
Team player
Skilled in using Office products (Excel, Word, etc.)
Exceptional oral and written communication skills, and ability to write reports
Ability to analyze information and determine appropriate management options
Ability to organize, coordinate, oversee and deliver multiple simultaneous projects
Ability to establish and maintain strong working relationships internally and externally
Proviso
Valid Level 1 OFA
Valid B.C. driver's license (drivers abstract will be requested from those selected for an interview)
Pesticide Applicators Certificate or willing to acquire
Only candidates being considered for this position will be contacted. Please submit your cover letter and resume as a single PDF, no later than November 30, 2018 at 4 pm, to: Malcolm Fitz-Earle, Chair-Hiring Committee at hr@ckiss.ca
 Please note, resumes and cover letters sent in Word format or as multiple PDFs will not be accepted.
For more information, interested parties may contact:
Laurie Carr, Executive Assistant
Central Kootenay Invasive Species Society
Email: lcarr@ckiss.ca
Phone: 1-844-352-1160
To download the job posting click here: Executive Director Job Posting
Farewell Message from current Executive Director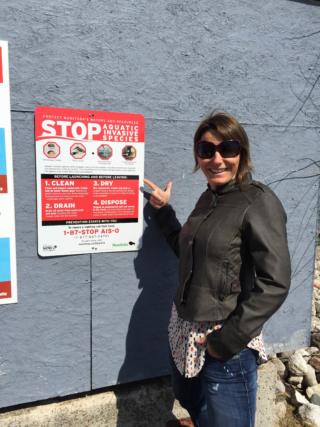 To the CKISS community,
My time at CKISS has come to an end. As such, I would like to take this opportunity to express my thanks to the CKISS community, membership, Board, staff and contractors for allowing me the opportunity to lead this amazing organization.
I have had the pleasure and honour of working at CKISS for over 9.5 years. In that time, CKISS has grown into an exceptional organization, with a fantastic team. I would like to take this opportunity to say thank you, to all of the amazing people that make this organization the success that it is.
Firstly thank you to the Board. Your leadership and guidance have been key to the success and growth that CKISS has experienced over the years. A special thank you to our longest standing Directors, Laurie Carr – Past President, Tom Bradley – Current President, Terry Anderson – Treasurer and Allan Freeborn – Director, your energy and dedication has been inspiring.
I am most proud of the CKISS staff team. The collaboration, camaraderie and passion of this group is difficult to match. CKISS is very lucky to have, Laurie Carr – Acting Interim Executive Director, Khaylish Fraser – Aquatic Invasive Species Program Coordinator, Erin Bates – Operations Program Coordinator and Laurie Frankcom – Education Program Coordinator, continue the important work of the organization.
The confidence and support of our stakeholders and funders has been imperative to the success of CKISS. I would like to say thank you to each of you for supporting invasive species management and education in the Basin. Your support is greatly appreciated.
Finally, thank you to our members and followers. Your support of the organization and interest in invasive species management and the protection of biodiversity through this work, gives the CKISS team energy to continue this important work.
I wish CKISS all the best and look forward to hearing about future successes.
Sincerely
Jennifer Vogel
Executive Director 2015-2018