Are you a mountain biker? Do you love to hike? Do you take your dog out on nature strolls? Did you know these actions may be spreading invasive species! If you care about preserving our vibrant trail system we encourage you to come to our Play Clean Go Love Your Trails Day .  The event will take place outside rain or shine at the Davies Street Park in Nelson on Saturday May 25,2019 from 10 am – 1 pm (see detailed schedule below). During the event we will teach you simple actions you can take to protect our trails from the harmful impacts of invasive species.
Activities will include:
Bike maintenance workshop with Gerick Cycle & Ski
Guided plant ID walk with CKISS
Community weed pull
Draw prizes
CKISS AGM and picnic lunch provided by CKISS
All activities at the event are FREE! If you plan to stay for lunch please complete the registration form below.
What to Bring
Water bottle
Coffee cup
Garden gloves if you have them (CKISS can provide you with some as well)
Your bike (if you are attending the bike maintenance workshop)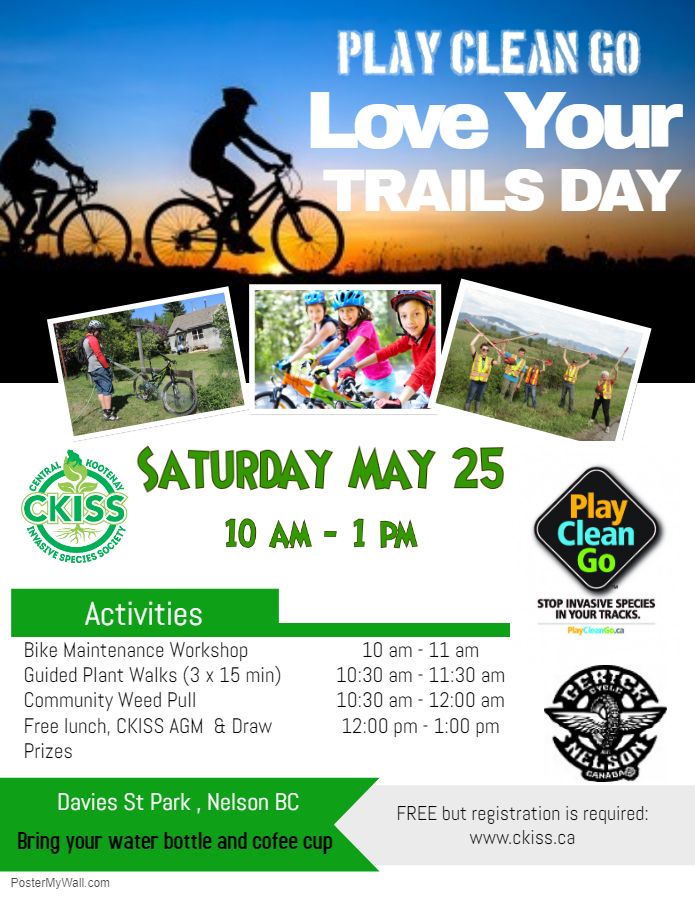 This event is designed for ALL sorts of trail users, from people that are brand new to biking/hiking or experienced folks that have been using the local trails for decades.  Come out and learn something new at the bike maintenance workshop, meet a hiking buddy, learn the names of native and invasive plants, help CKISS remove invasive species in Davies St Park, stay for the picnic! The event is FREE however registration is required. Please fill out the form below, registration closes on May 23. 
[captainform id="1273269″]
How to PLAY CLEAN GO
PlayCleanGo, arrive and leave natural areas clean. Remove all dirt, plants and bugs from your belongings, pets and vehicles
Stay on existing roads and trails
Report invasive species if you see them