While invasive zebra and quagga mussels (ZQM) have not been found in British Columbia to date, they remain a major threat to BC waters.
In other parts of North America, these mussels have caused considerable damage to hydropower stations, and municipal water supplies. The mussels can also have impacts on biodiversity, water quality, recreation, fisheries and species at risk. You can learn more about the impacts of aquatic invasive species and what you can do to help here.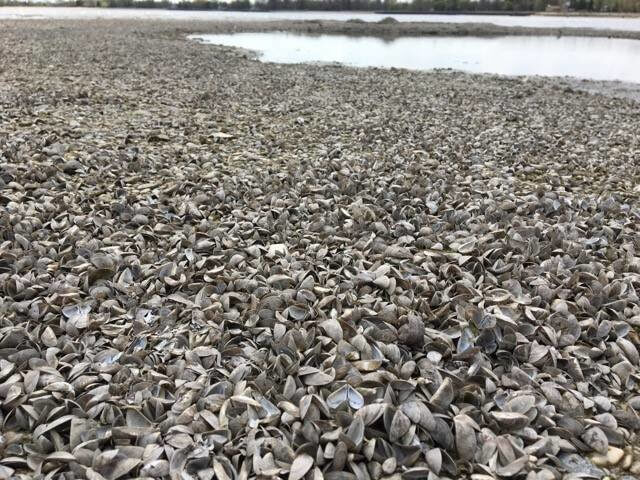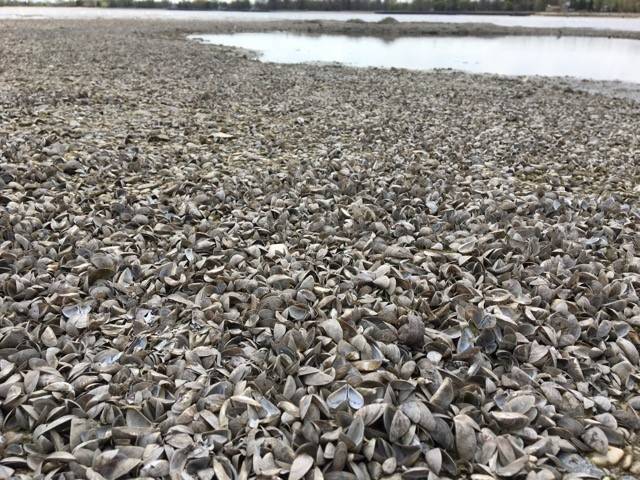 Monitoring for early detection of infestations
Once introduced into a waterbody ZQM are difficult, if not impossible, to control. If ZQM are detected in an aquatic system, response efforts must begin swiftly! CKISS conducts ZQM monitoring to ensure early detection of any new infestations in local waterbodies. As of October 1, 2020, CKISS had collected 235 plankton samples from nine waterbodies in our region.
Samples are analyzed in a provincial lab to detect the presence of ZQM veligers (microscopic larvae).  As of August 26, all of these samples have tested negative for invasive mussels.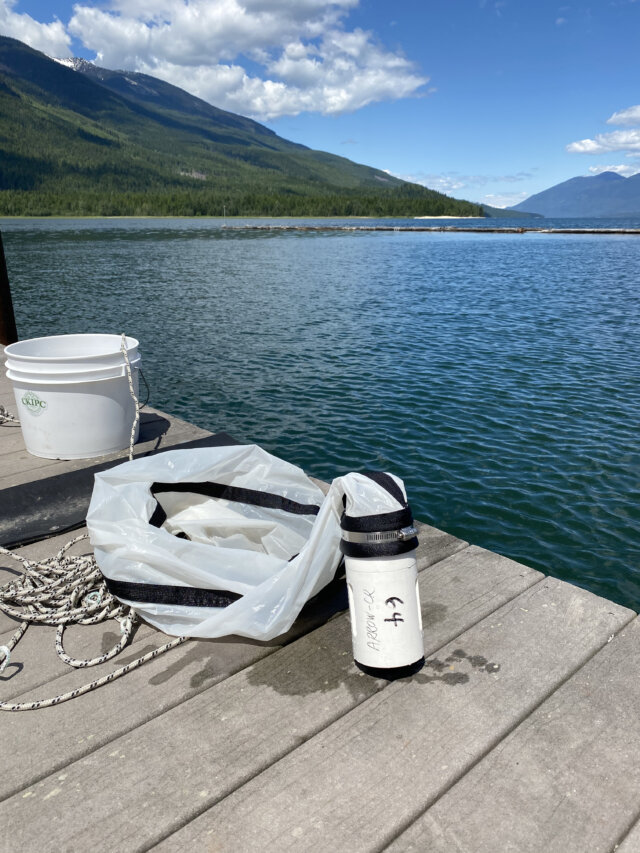 Education empowers boaters to stop the spread
In addition to monitoring, CKISS facilitates education and outreach activities related to mitigating the impacts of aquatic invasive species in the Central Kootenay. In 2020, CKISS partnered with the Regional District of Central Kootenay and the Creston Valley Wildlife Management Centre to install six new educational signs at water based recreation sites to remind users of the importance of the Clean, Drain, Dry program.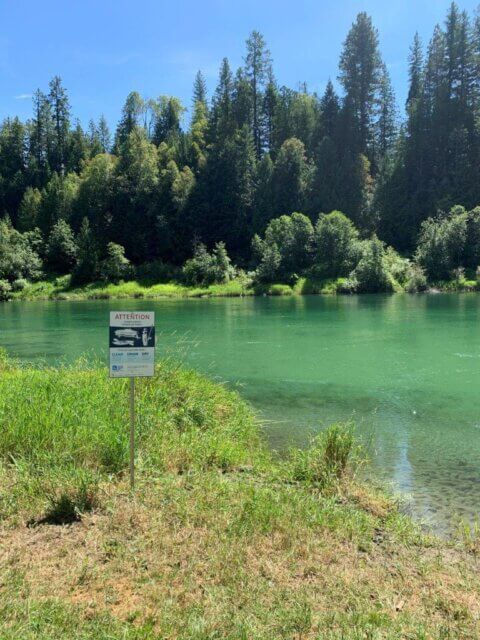 We also hosted a Clean, Drain Dry educational booth at various locations to talk to watercraft users.  Our outreach booth was set up this summer at the Village of Slocan boat launch, Lakeside Park in Nelson, and Kokanee Creek Provincial Park.
The Clean Drain Dry (CDD) program is designed to prevent the introduction and spread of aquatic invasive species through recreational pathways by increasing awareness about transporting invasive species and encouraging responsible behaviour, namely cleaning, draining and drying watercraft and gear.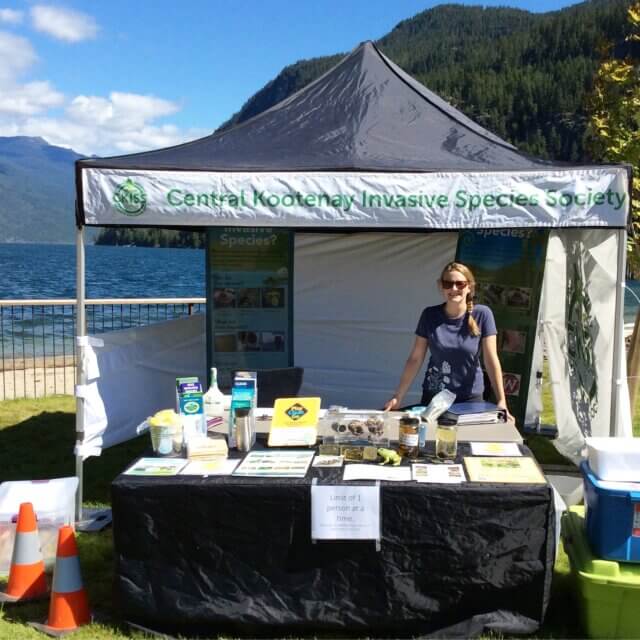 Inspection stations intercept contaminated watercraft
ZQM can be transferred from one waterbody to another as 'hitchhikers' onto watercraft or equipment.  These organisms have been found as nearby as Montana and Manitoba, and could easily be introduced to BC waters on boats returning from a mussel-infested region. Zebra and quagga mussels can survive for several weeks out of the water!
This is why the provincial BC Invasive Mussel Defence Program operates watercraft inspection stations. These stations inspect and decontaminate high-risk watercraft so that they do not transport mussels into BC. If your boat has been in a mussel-infested state or province in the last 30 days, it MUST be decontaminated before entering BC waters.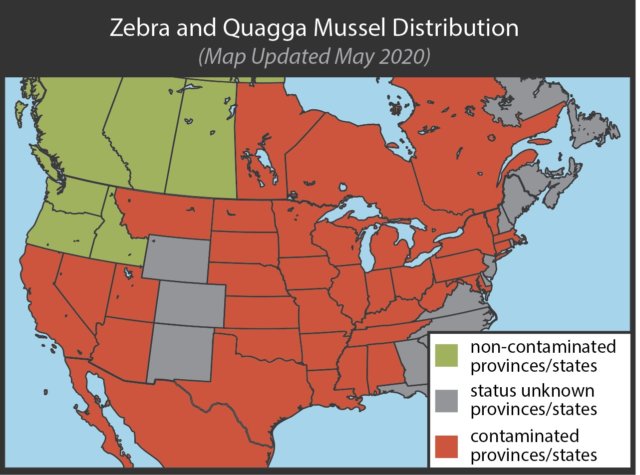 These inspection stations continued to operate in 2020. The total number of inspections conducted this year was lower than in 2019. Less watercraft were crossing the border from the US. However, these stations still played a very important role in preventing invasive mussels from entering BC waters. By July 23, 2020, 74 high-risk watercraft had been identified at BC inspection stations. Ten of these watercraft were contaminated with invasive mussels!
In 2019, it was noted that some vehicles carrying non-motorized watercraft were not stopping at the watercraft inspection stations. CKISS would like to remind drivers that ALL watercraft must stop at inspection stations. Boats which have not been in an infested province or state must still be thoroughly cleaned, drained and dried when being moved from one waterbody to another.

This important work is funded by the Ministry of Environment & Climate Change Strategy, Habitat Conservation Trust Foundation and Columbia Power Corporation.