American bullfrog control work was in full swing from May 20th to September 16th, 2021. The American Bullfrog Action Team (ABAT) conducted an immense amount of surveillance effort to maintain coverage of pretty much the entire Creston Valley south of the Highway 3 bridge. Much gratitude for their hard work and perseverance through some intense conditions: heat dome, smoke and many long nights.
Their hard work has paid off, the detection and capture numbers this year suggest a reduced bullfrog population north of the Canada/US border in the Creston Valley. This is good news for native frogs, especially the endangered Northern Leopard frog who call that area home.
Bullfrog Captures through the years: 
Stats include adults, subadults, metamorphs and tadpoles
2019– 1465
2020 – 170
2021 – 52
**Thank you to Matt Morrison, the American Bullfrog Program Coordinator for contributing the above content.**
How can you help stop the American Bullfrog Invasion?
Do NOT purchase bullfrogs as pets
Never release bullfrogs into the wild
Do NOT transport wild bullfrogs or tadpoles from place to place, it is illegal under the Wildlife act to capture, transport, keep or sell wild animals including bullfrogs.
Large tadpoles can be a tempting pet or a popular addition to your backyard pond, but this has been identified as a primary way bullfrogs have been spreading through the province
Report sightings by calling 250-354-6333 or email kootenaybullfrogs@gov.bc.ca
Central Kootenay Invasive Species Society gratefully acknowledges the financial support of the Fish and Wildlife Compensation Program for its contribution to the Northern Leopard Frog Preservation American Bullfrog Control. www.fwcp.ca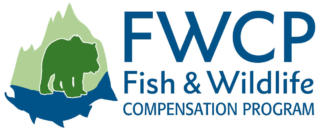 Additional support was supported by Columbia Basin Trust.


We gratefully acknowledge the financial support of the Province of British Columbia through the through the Ministries of Forests, Lands, Natural Resource Operations and Rural Development; and Environment and Climate Change Strategy