The Creston Rod and Gun Club are hosting a fishing derby at Mawson Lake  for their members and their families during B.C's Family Fishing Weekend, an annual celebration of fishing.  In 2022, the three-day event falls on June 17th to 19th. This is a great chance to get together with family and friends, and try fishing.
The Creston Rod and Gun club will host a BBQ, an informal youth fishing derby and prizes! The CKISS outreach booth will be set up from 10am- 2pm to give anglers tips on how they can protect our water from the threats of aquatic invasive species.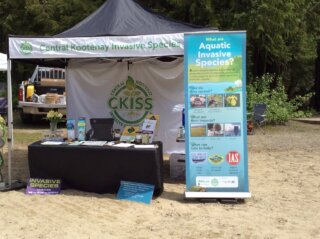 Fish for free during the B.C's Family Fishing Weekend
Right through the third weekend in June (including the immediately preceding Friday), our provincial government waives the requirement for residents of Canada – individuals who have lived in Canada for the preceding 12 months – to buy or carry a non-tidal (freshwater) basic fishing licence. The federal Department of Fisheries and Oceans Canada, which manages fishing in tidal waters, also offers the opportunity to go saltwater fishing for free. To learn more about the rules around fishing during the weekend, click here.