Learn to weave with the inert leaves of invasive yellow flag iris! We are collaborating with Neighbours United to host a FREE Community Weed Pull & Weaving Workshop event along the shores of Kootenay Lake in beautiful Nelson B.C.
Community Weed Pull
A Community Weed Pull event is when a group of volunteers uses hand tools to remove an invasive plant infestation in their community. Volunteers will receive hands-on learning experiences on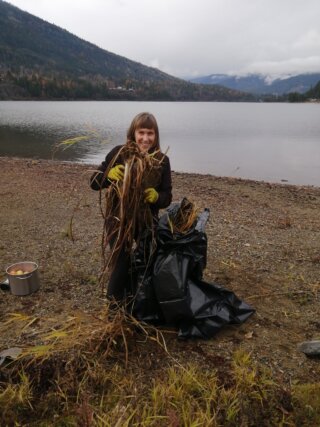 the impacts invasive plants can have on ecosystems and economies. In addition, you will learn about the targeted plant's ecology, proper removal and disposal techniques.  These events are  a fun way to develop environmental ambassadors. We need your help digging out yellow flag iris! Yellow flag iris outcompetes native plant species and ultimately disrupts an area's ecosystem complexity. These disturbances result in reduced habitat suitability and support for wildlife – especially for breeding, staging, and migrating waterfowl.
Weaving Workshop
Immediately following the Community Weed Pull we will move to the Rotary Shelter at Lakeside park to participate in the weaving workshop portion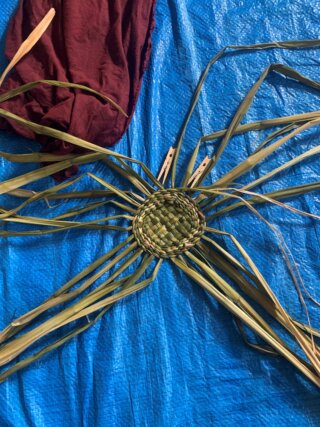 of the event. This short workshop will provide an introduction to the basic and universal 'twining' weaving technique. Each participant will weave and take home their own coaster or shallow vessel, dependent on individual speed and ability. Suitable for beginner and new weavers, join us to learn how to safely up-purpose local greenwaste.
Details
Date: Saturday September 10, 2022
Time: 10:00 am- 1:00 pm
Location: Meet at the shore of Kootenay Lake at the end of Lakeside Dr.,70 Lakeside Dr. (Meet in front of the recycling depot.)
What you will be doing: Using hand tools you will help us dig out and properly dispose of invasive yellow flag iris and then learn how to weave with the greenwaste.
The event is FREE but Pre-registrations is required. Please click the button below if you would like to sign up for the Weaving With Invasives Event. There are only 10 spots available!