The financial support from the Columbia Basin Trust (the Trust) has been integral to CKISS' work to keep ecosystems healthy and economies thriving through education and effective invasive species management in the Central Kootenay region.
The Trust is writing a new Columbia Basin Management Plan and is seeking community feedback to help shape this plan. This is where we are asking you to show your support for CKISS! Please reach out to the Trust and tell them why you support invasive species education & management.
Click on one of the buttons below to find out how to attend a Zoom meeting, fill out their online survey (available April 3), or attend an open house or community meeting. For some incentive, the Trust is offering one lucky person who attends a community meeting a chance to win a $500 gift certificate to a Basin business of their choice!
We appreciate your support!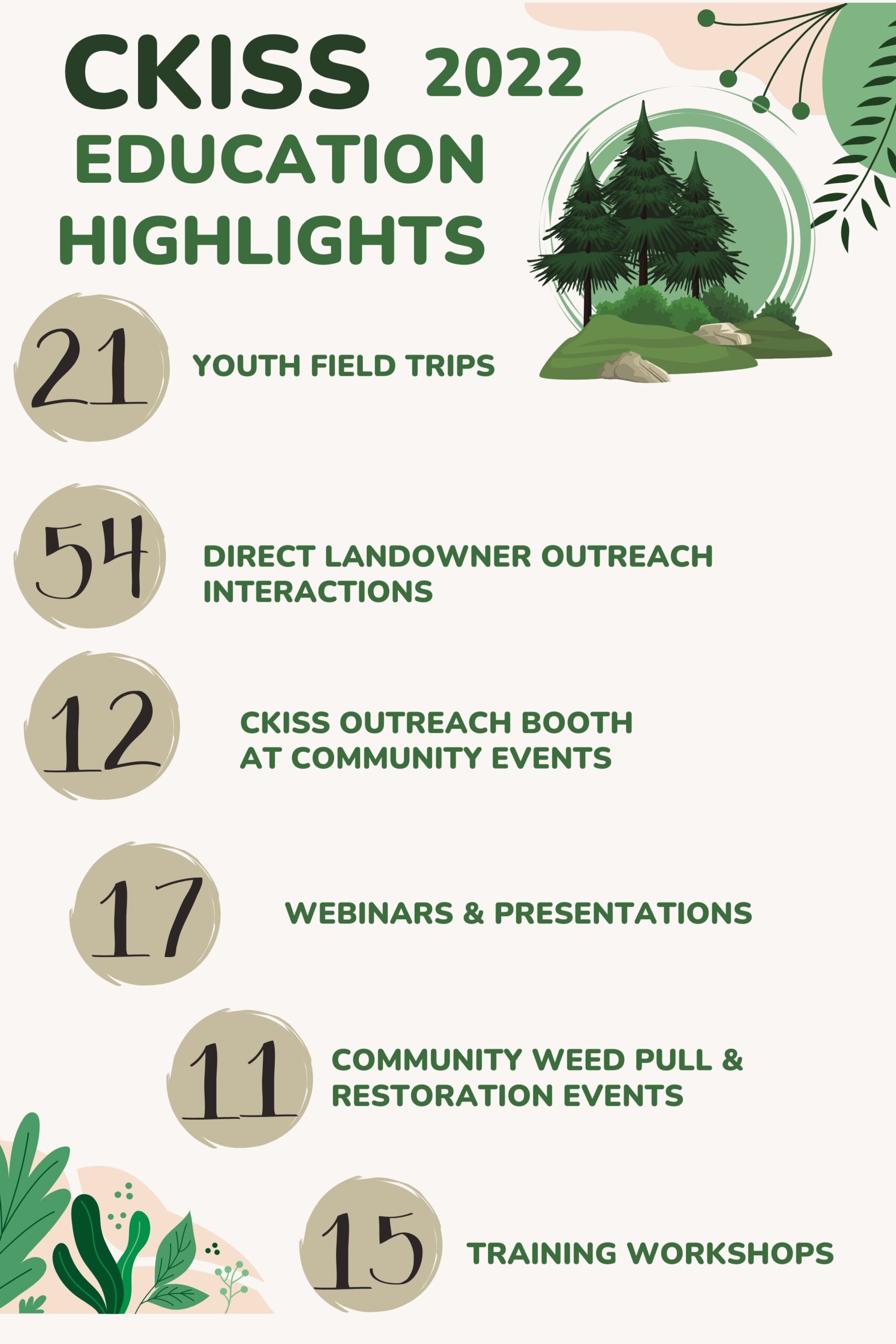 The most effective way to manage invasive species is through prevention!
The Trust's support provides core funding to CKISS' education and outreach program. An important element of preserving ecosystems and economies is raising people's awareness of the actions they can take to prevent the spread of invasive species.
In 2022, we were able to directly reach over 2,100 people through a variety of 'boots on the ground' outreach activities (see graphic above). Additionally, the Trust financial contribution allowed us to purchase necessary educational resources that were distributed throughout our region to residents, local businesses, and visitor centers. The Trust's funding supported our communication strategy and allowed us to collaborate with other organizations to share ideas and coordinate consistent messaging on invasive species prevention and management throughout the Columbia Basin region. It is important that invasive species education & management is part of the new Columbia Basin Management Plan so we can continue to deliver the CKISS Education & Outreach program for years to come!