The results are in and 2015 was a win for the Columbia Basin Aquatic Invasive Species Team, residents, tax payers, business owners and utility companies. Monitoring for the invasive zebra and quagga mussels was conducted in 28 high priority water bodies around the Canadian Columbia Basin, and the good news is, no invasive mussels were detected! This was made possible because water enthusiasts from all corners of the Columbia Basin are taking action to CLEAN, DRAIN, DRY all of their watercraft and equipment when traveling between bodies of water.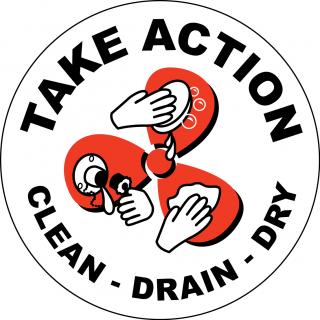 Zebra and quagga mussels pose a significant threat to BC's freshwater ecosystems and infrastructure such as hydroelectric and drinking water facilities. Monitoring for these highly invasive mussels has expanded around the Columbia Basin thanks in part to multiple agencies, including government, non- government, regional invasive species societies (including CKISS), first nations and industry that have joined forces, in order to prevent and manage aquatic invasive species (AIS). The overall goal of this program is to reduce the spread and prevent the introduction of aquatic invasive species that pose significant risk in this region. A primary focus of this program is to enhance coordination of outreach, monitoring, and research activities.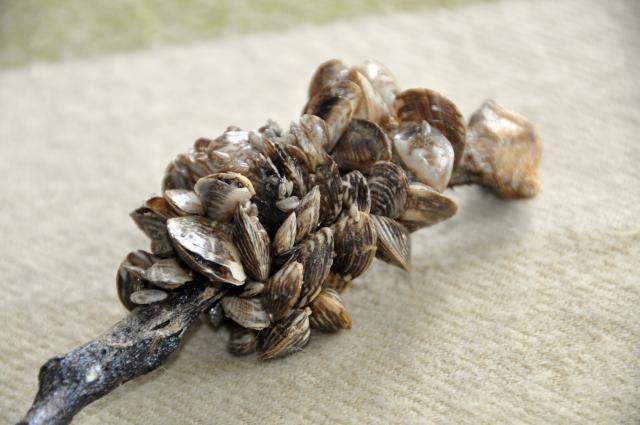 Monitoring for zebra and quagga mussels in high priority waterbodies around the Basin will continue in 2016.
Learn more about these highly invasive mussels here.
Mussel Defense Program
Another win for the environment and economy was an increase in the number of mandatory watercraft inspection stations. In July 2015, the Ministry of Environment, with support from the Columbia Basin Trust, FortisBC Inc., and Columbia Power were able to increase the number of units within the Columbia Basin region from three to six.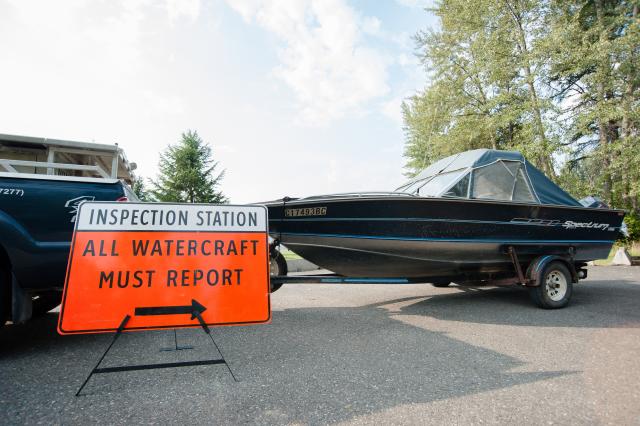 In 2015 the 6 stations were able to:
intercept 70 boats travelling from zebra or quagga mussel contaminated jurisdiction
inspect over 4,000 watercraft
educate 10,000 people about Clean, Drain, Dry
"Preventing the introduction of zebra and quagga mussels is key because it only takes one boat with live mussels or their larvae to enter a waterway in B.C. to be catastrophic. This is why it's so important that this defence program continue beyond this summer and that it continues to expand here in the Columbia Basin and throughout the province." – Khaylish Fraser CKISS – AIS Program Coordinator
More information on the Mussel Defense Program can be found here:
– BC Gets boost in fight against invasive mussels
– Phew! A zebra mussel infested boat was detected by a BC inspection crew
Two ways you CAN help prevent the spread and introduction of AIS?
1. Clean, Drain, Dry
Did you know that it is illegal to transport aquatic invasive species? There are three things simple actions you an take can take to prevent transporting aquatic invasive species, they are CLEAN, DRAIN, DRY. To learn how to do these 3 simple steps visit our "Take Action: On the Water" page. You can learn more about aquatic invasive species regulations here.
CLEAN, DRAIN, DRY your boat at these locations around the Columbia basin:
DOWNLOAD Commercial Boat Wash Locations.
2. Don't Let it Loose
These are the words you are likely to hear as we share the latest tool proven to prevent the introduction and spread of aquatic invasive species. Don't Let it Loose is a campaign developed to raise awareness within the pet and aquarium trade.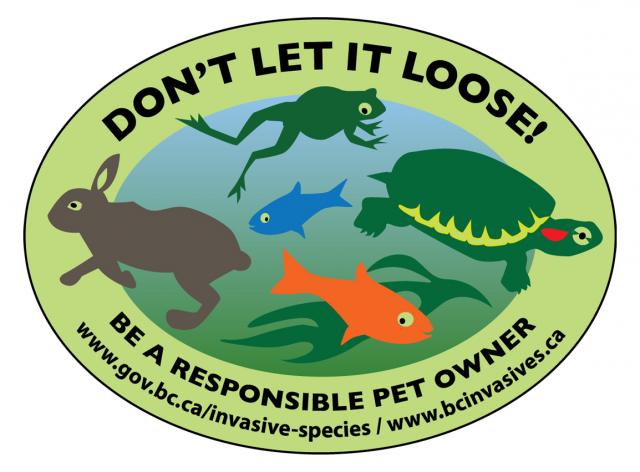 There are a variety of exotic plants, reptiles and fish you can choose from for your water garden, aquarium or terrarium. If these animals and plants are released into the "wild", there is the possibility that they will thrive in their new environment, drastically changing and disturbing the natural web of life. Alternatively, animals that are released into an environment that they are unaccustomed to have a high chance of being eaten by predators, hit by vehicles or starving to death.
To find out more about how you can be kind to your pets and the environment, click here.