Our friends at the Native Plant Society are hosing their Annual General Meeting on Wednesday February 1 2017. A highlight will be a presentation from Richard Hebda.
His talk is titled : "Restoring the Future: Native Plants and Climate Change."
Richard Hebda is a Curator of Botany and Earth History at the Royal British Columbia Museum and an adjunct faculty member in Biology and Earth and Ocean Sciences at the UVic. He studies the climate history of BC, Ethnobotany of BC First Nations, climate change impacts, restoration of natural systems, ecology and origins of Garry oak and alpine ecosystems and botany of grasses. He has a Ph. D. in Botany form the University of British Columbia.
Event Details
The event will take place on Wednesday Feb 1.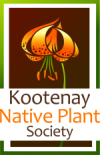 United Church in Nelson at 602 Silica St.
Refreshments 6:30
Presentation 7-8 then Q&A
Brief AGM to follow
Tickets are available for cash purchase at the following venues within the first week in January: Ellisons Market in Nelson, Crumbs Bakery in Castlegar and Bay Avenue Music in Trail. Tickets will also be available at the door.
$10/ticket $5 for Students
email lindsayhovde@gmail.com with any questions