The CKISS outreach booth will be set up at pet stores in Castlegar to chat with pet owners about the 'Don't Let It Loose' program.
There are a variety of exotic plants, reptiles and fish you can choose from for your water garden, aquarium or terrarium. If these animals and plants are released into the "wild" there is the possibility that they will thrive in their new environment, drastically changing and disturbing the natural web of life.
Please come and talk to us about alternatives to release but please remember to practice physical distancing in order to reduce the spread of Covid-19.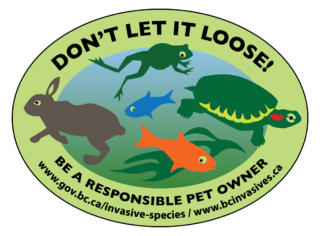 Outreach Booth Details
Location : Pet Valu
Address: 2317 Columbia Ave, Castlegar
Date: July 31, 2020
Time: 10:00- 12:00 am
Location : Blue Barn Pet and Hobby Farm
Address: 1965 6 Ave, Castlegar
Date: July 31, 2020
Time: 2:00 – 4:00 pm