On September 23, students in Grades 6 and 7 from Nakusp Elementary School (NES) helped CKISS with a restoration project at Summit Lake Provincial Park. One class, now in Grade 7, has been helping with this project for the last four years!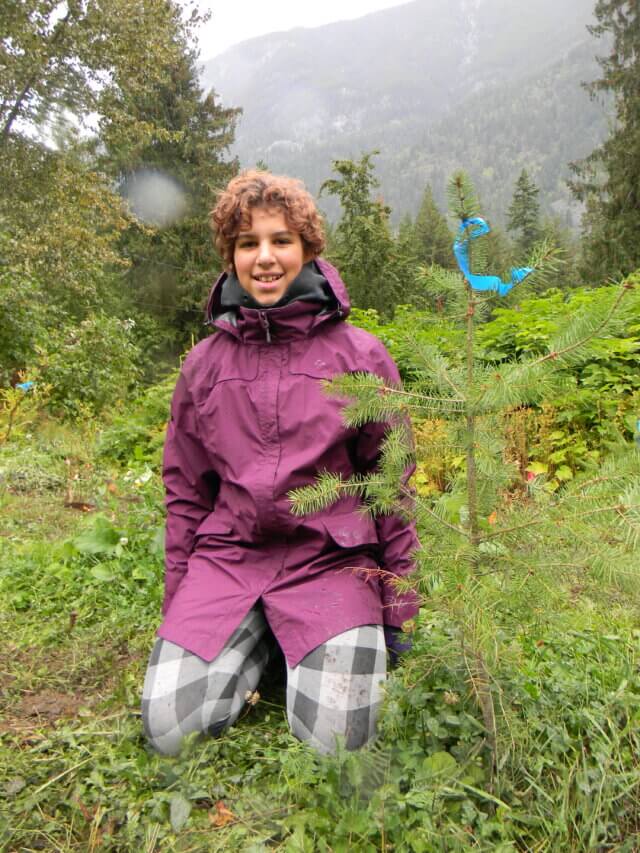 A multi-year project
When NES students first visited the site in 2017, a dense patch of burdock (Arctium minus) covered the site. This invasive plant is infamous for its sticky, hooked burs, which can attach to wildlife, livestock and pets. Over the years, the students have removed burdock, planted native plants and dispersed seeds on the site.
This fall, students and CKISS staff surveyed the site and were happy to see that many of the native species planted in previous years are now thriving. Yarrow (Achillea millefoilium), is a native species that students planted by seed in previous years. The yarrow has grown to create a thick groundcover over parts of the site, which will help prevent invasive species from re-establishing.
The restoration efforts continued this year with the students planting 12 species of native plants on the site. Under the guidance of CKISS staff, they planted over 200 plants in a single day! The students also helped to distribute a restoration seed blend over the site. This will prevent invasive species from establishing in the soil disturbed by weeding and digging holes for planting. This year the Grade 7 students helped CKISS staff design an interpretive sign to be installed at the site detailing their restoration activities.
The restoration site is located at Summit Lake Provincial Park, just 16km south of Nakusp. Students said they look forward to visiting the site in the future to check on their plants and to show friends and family the results of their hard work!
What did we plant and why?
The site is a moist, warm site located within the Interior Cedar – Hemlock (ICH) biogeoclimatic zone. Sites like this typically have Douglas-fir, larch, cedar, and hemlock trees in the canopy. The understories (shrubs, herbs, lichens and mosses) of these sites can be very diverse. These sites are used by many species of birds, amphibians and mammals.
Species selection for this project has been guided by a Plant Ecologist. The trees and shrubs chosen for this project are species that would naturally grow in this ecosystem. We also chose these species because they can successfully be grown in a nursery and transplanted. Some of the species planted include snowberry (Symphoricarpos albus), tall-Oregon grape (Mahonia aquifolium), Nootka rose (Rosa nutkana), thimbleberry (Rubus parviflorus) and red-osier dogwood (Cornus stolonifera).
Douglas-fir, Western larch and Nootka rose were planted in sunny, dry locations, while red-osier dogwood and willow trees were planted on wetter microsites. Western redcedar was planted in shady locations in previous years and was growing well. We hope that the cedar trees will thrive and take the place of some burdock which still persists in the shade.
The restoration seed blend used this year included non-invasive species used for restoring sites in the ICH. These included blue wild rye, western fescue, Columbia brome and slender wheat grass. We hope that these grasses will quickly cover the bare soil and outcompete invasive species while we wait for our native plants to grow.
This is the fourth year that CKISS has conducted restoration activities at Summit Lake. We are so excited to see our native plants thriving and fewer invasive plants growing on the site!
Hands-on learning opportunities with CKISS
While at Summit Lake, the students also participated in educational activities and games to learn more about invasive species and the impacts they have on the environment, economy and society. A scavenger hunt in the forest and learning to identify plants were highlights of this hands-on lesson. Despite the rain, students enjoyed learning about the ecology of the park and putting their knowledge into practice at the restoration site.
We gratefully acknowledge the financial support of the Province of British Columbia through BC Parks- Parks Enhancement Fund and TD Friends of the Environment Foundation.