Learn about the positive actions that CKISS, citizens and organizations are taking to protect native ecosystems in the Castlegar area.
Join us on our field tour and be inspired! On September 14th you are invited to come find out what CKISS and others are doing to protect native ecosystems in the Castlegar area.
Field Tour Details:
Date:Thursday September 14, 2023
Time: 9:00 am – 3:00 pm (please note the start and end times will vary depending on shuttle pick up and drop off points)
FREE Shuttle: Transportation will be provided. Pick up locations are Nelson, Playmour Junction and Castlegar. Once you register please check your email for exact pick up locations and times.
FREE Lunch: a meal will be provided during the field tour. Once you register please fill out the form that will be emailed to you to advise us of any dietary needs.
The event will take place outside, please come dressed for the weather conditions.
To see the detailed agenda for the Field Tour, you can click here: CKISS Field Tour Agenda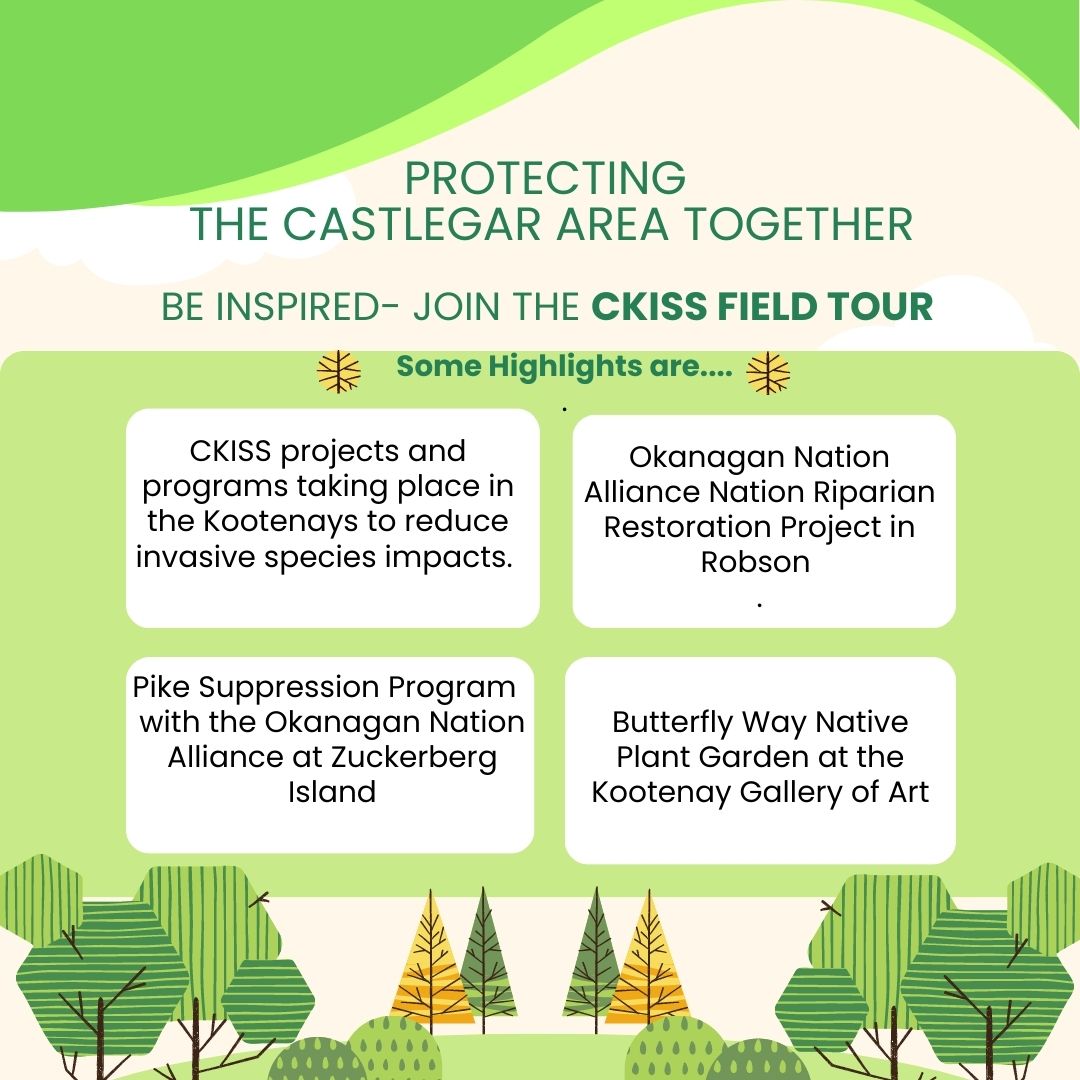 Field Tour Stops:
Butterfly Way Native Plant Garden at the Kootenay Gallery of Art
Okanagan Nation Alliance Nation Riparian Restoration Project in Robson
Pike Suppression Program with the Okanagan Nation Alliance at Zuckerberg Island
Lunch break at Millennium Park
Throughout the tour CKISS staff will discuss some of the work that is currently being done to reduce the impacts of invasive species on our local ecosystems and economies. CKISS will highlight the zebra mussel monitoring program, youth & community weed pull events, the Eco Garden project and the Kootenay Riparian Project.