UPDATE: The Native Plant Seed Collection Workshop is now FULL. If you want to add your name to the waiting list please click on the button below. If a spot becomes available we will get in touch via email.

Join us and KinSeed in Rossland on September 23 for a Native Plant Seed Collection Workshop. Explore biodiversity, aid Jubilee Wetland's revival, and learn ethical seed harvesting. Take home local seeds to enrich your own yard.
Highlights
Restore through Seed Collection:  Team up with KinSeed experts to gather native plant seeds for Jubilee Wetland's revival and safeguard local life.
Discover Native Plant Secrets: Learn to identify native plants and seeds, unveiling the magic of local ecosystems.
Green Your Space: Take home native seeds, nurturing vibrant local flora and fauna in your garden.
Be the Change: Connect with biodiversity, partake in restoration, deepen native plant understanding, all while having a blast.
Join the Movement: Secure your spot for this vital work by registering on our website…
Sow the seeds of change in Rossland and let's create a greener tomorrow!
Workshop Details:
Date: Saturday September 23, 2023
Time: 1:00 pm – 4:00 pm
Location:  Rossland BC, 4255 Red Mountain Rd. Base of Red Mountain Resort.  Meet at the Nowhere Special Hostel, covered patio area.
Presenter:  Valerie Huff
Valerie is a co-founder of KinSeed Ecologies in Nelson, offering native plant seeds, consulting, and native plant propagation services in the BC Interior.  Passionate about native plants, native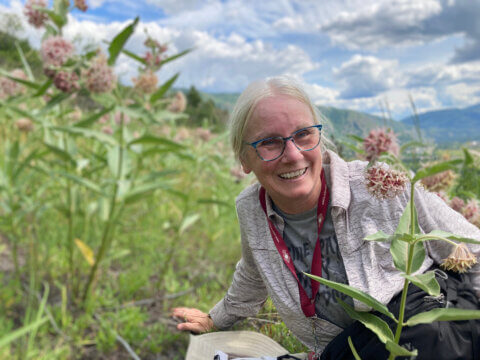 bees and butterflies, and ecosystem restoration, she holds a plant agriculture degree from the University of Guelph. Her UVic journey yielded a Restoration of Natural Systems diploma and a restoration ecology master's, exploring native grasses in northeastern BC.
A founding Kootenay Native Plant Society member, Valerie manages the Pollination Pathway Climate Adaptation Initiative. On the Native Bee Society of BC's board, she ardently advocates for robust pollination networks. Recognizing the synergy between native plants, pollinators, and ecosystems emphasizes the crucial role of locally sourced seeds in bolstering these pollination networks.
Funders:
This project was undertaken with the financial support of the Government of Canada through the federal Department of Environment and Climate Change.
Ce projet a été réalisé avec l'appui financier du gouvernement du Canada agissant par l'entremise du ministère fédéral del'Environnement et du Changement climatique.

We acknowledge the financial support of the Province of British Columbia and Columbia Basin Trust who support CKISS' Education Program.