Butomus umbellatus
Description
Native to temperate Eurasia.
Emergent plant that grows along shorelines and wetlands or as a submergent plant in lakes and rivers.
May or may not produce flowers. Flowers are pink to white. Blooms from June to August.
Typically grows in shallow waters but can survive in water as deep as 6 meters.
Disperses by wind, water and humans through improper garden waste disposal, water based recreation and trading.
Known infestations in the Pend D'Oreille River in the state of Washington. Please report immediately if you suspect an infestation.
Consequences of invasion
Extremely aggressive, spreads quickly and displaces native shoreline vegetation.
Adversely impacts native fish species by forming dense stands.
Provides favourable habitat for invasive fish species such as small and large mouth bass, northern pike and walleye.
Dense infestations negatively impact recreational boating and other recreational activities.
Status in the CKISS region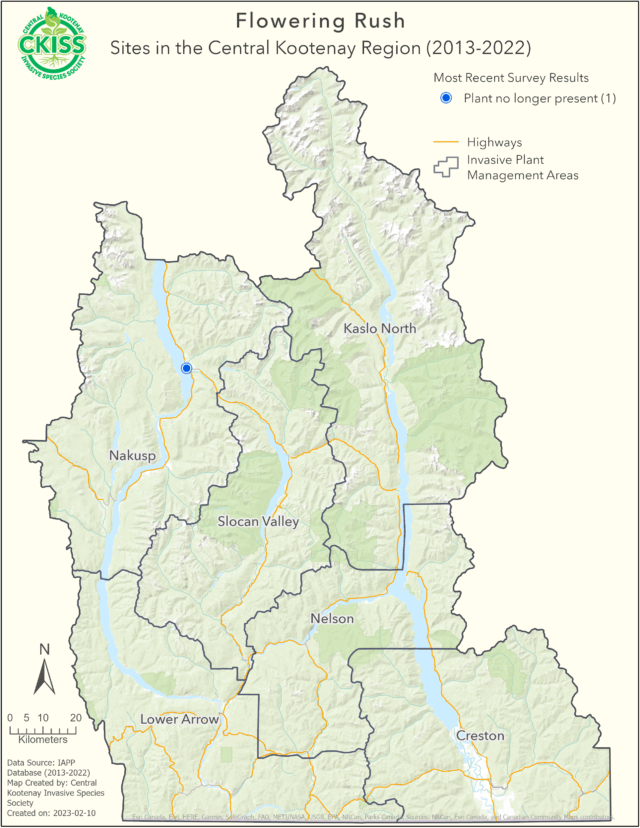 This species is also classified as Provincial EDRR by the provincial government, and is managed by the Province.
To learn more about how CKISS classifies and manages invasive species, see our Invasive Species Priority Lists page.
Integrated pest management options
Do NOT plant Flowering Rush in your water gardens. Utilize an alternative such as western blue iris (Iris missouriensis).
Properly dispose of garden and yard waste by bagging and disposing of at your local landfill.
Aquatic invasives can be very difficult to manage once they establish in a system, so prevention is the best option for this species.