Cardaria draba
Description
Native to Europe and Asia.
Long-lived perennial.
In the Mustard family.
White flowers, with four petals.
Requires full sun and moderately moist to dry soil.
Deep vertical taproots and horizontal, rhizomatous roots.
Reproduces by seed (1000 to over 4000 per plant) and roots.
Consequences of invasion
Invades rangelands and pastures, impacting livestock.
Livestock will not eat hoary cress.
Milk and meat can be tainted if the plant is eaten by stock, condition persists for a week.
Highly competitive, outcompetes native vegetation in rangelands.
Decreases crop yields.
Status in the CKISS region
Found in the Columbia Gardens, Warfield and Rossland area, hoary cress is classified as Contain for the Lower Arrow Invasive Plant Management Area (IPMA) on the CKISS Annual Priority List.
As hoary cress has a very limited distribution in IPMAs outside of the Lower Arrow region, it is classified as Regional EDRR for those IPMAs.
CKISS is taking measures to monitor for hoary cress in those areas, with the goal of eradication if it is detected.
To learn more about how CKISS classifies and manages invasive species, see our Invasive Species Priority Lists page.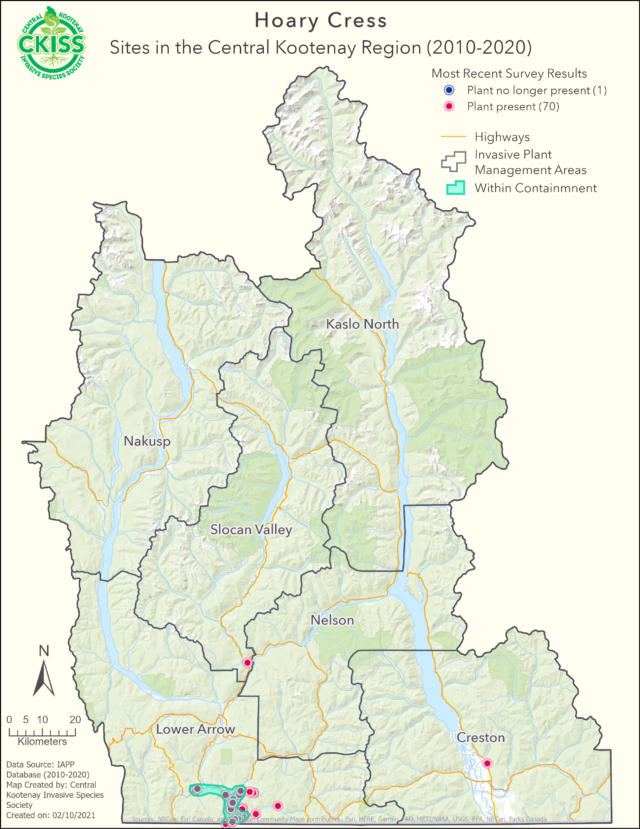 Integrated pest management options
Use the PlantWise resource to choose non-invasive plants for your garden.
Pull or dig small infestations when soil is moist.
Proper pasture and rangeland management, minimizing soil disturbance and overgrazing.
Chemical control may work on larger infestations.