Centaurea x moncktonii
Description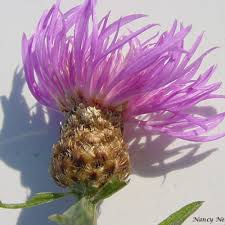 Native to Southern Europe.
Hybrid of black and brown knapweed.
Perennial that reproduces by seeds.
Flower is purple, blooms July through September.
Bracts are brown with a thin fringe. Bracts become shiny as flower matures.
Seed heads are rounder than those of spotted knapweed (Centaurea stoebe).
Prefers disturbed and moist sites, along roadways, fields, open grasslands and pastures.
Consequences of invasion
Foliage is coarse and not palatable to livestock.
Outcompetes native grasses and other pasture species.
Status in the CKISS region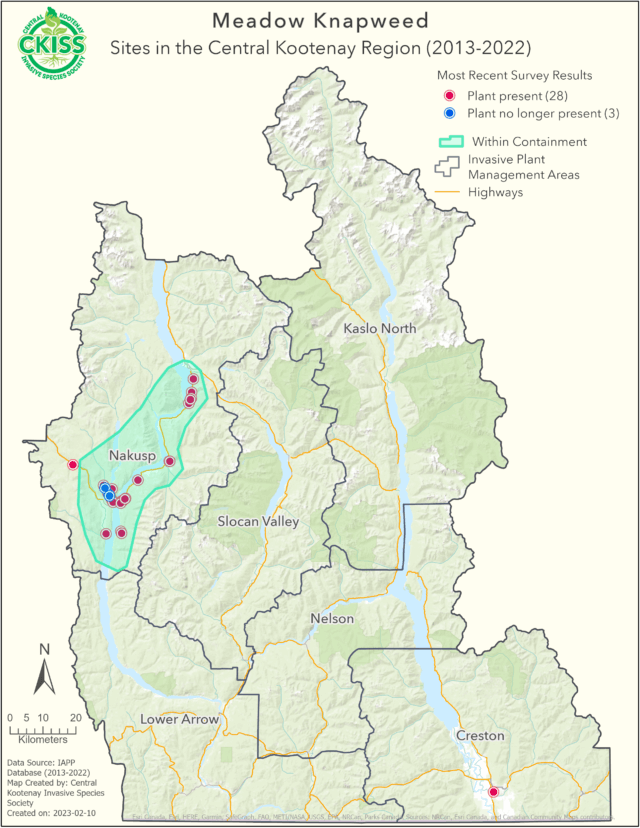 It is present in the Nakusp Invasive Plant Management Area (IPMA), where the goal is to manage current infestations and prevent this species from spreading beyond its containment area.
If you notice this plant growing outside of its containment area, please report it!
It has also been found with a very limited distribution in the Creston IPMA, where eradication is the goal and is feasible.
To learn more about how CKISS classifies and manages invasive species, see our Invasive Species Priority Lists page.
Integrated pest management options
Be PlantWise and avoid growing meadow knapweed in your garden.
Hand pull small infestations when soil is moist.
Repeated cultivation is effective.
Biocontrol agent exists for this species.
Annual monitoring is recommended