Carduus nutans
Description
Solitary flowers at the end of a 20 cm – 2.5 m tall stem
Alternate leaves, waxy cuticle
Flowers are purple-red with spiny bracts surrounding the flower.
Called 'nodding thistle' because the flowers droop down as they mature.
Introduction and spread
Native to Europe
A nodding thistle plant may produce up to 20,000 seeds
Seeds can be transported to new areas via vehicles, equipment, or clothing
Prefers to establish on disturbed sites.
Consequences of invasion
A problem in grasslands where grazing animals favor grasses over the thistle, giving it a growth advantage
Outcompetes native grasses
Creates impenetrable thickets
Status in the CKISS region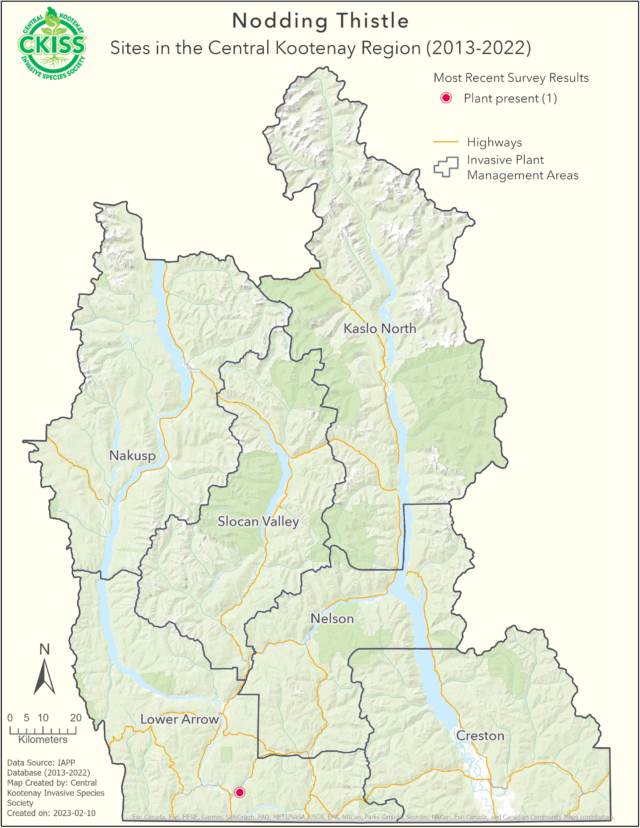 It has only been found in the Lower Arrow Invasive Plant Management Area of our region.
Measures are being taken to eradicate this species where it is found, and to prevent further spread into new sites.
Please report any findings of this species immediately.
To learn more about how CKISS classifies and manages invasive species, see our Invasive Species Priority Lists page.
Integrated pest management options
Prevention
Be PlantWise! Choose only non-invasive plants for your garden.
Learn to properly identify nodding thistle
Clean equipment and gear before leaving an infested site
Treatment
Hand digging and mowing can be effective if repeated over a period of time
Mow just before plants flower to reduce seed production.
Transport securely and dispose of removed invasive species properly at a landfill