Ventenata dubia
Description
Winter annual grass that grows 10-45 cm tall
Stems are long, thin, wiry, and branching
Leaves are narrow, smooth-edged, and occur mainly on the lower half of stems
Young plants (May/June) are green, have reddish-black nodes, long ligules, and shallow roots
Mature plants (June/July) are silvery/green, erect, have smooth-like stems, and an open panicle
Senesced plants (July/August) have straight lower awns and twisted/bent upper awns
Grows in open, disturbed areas typically below 1800 m elevation
(e.g., grasslands, rangelands, roadsides, rail lines, dry forests, and riparian areas)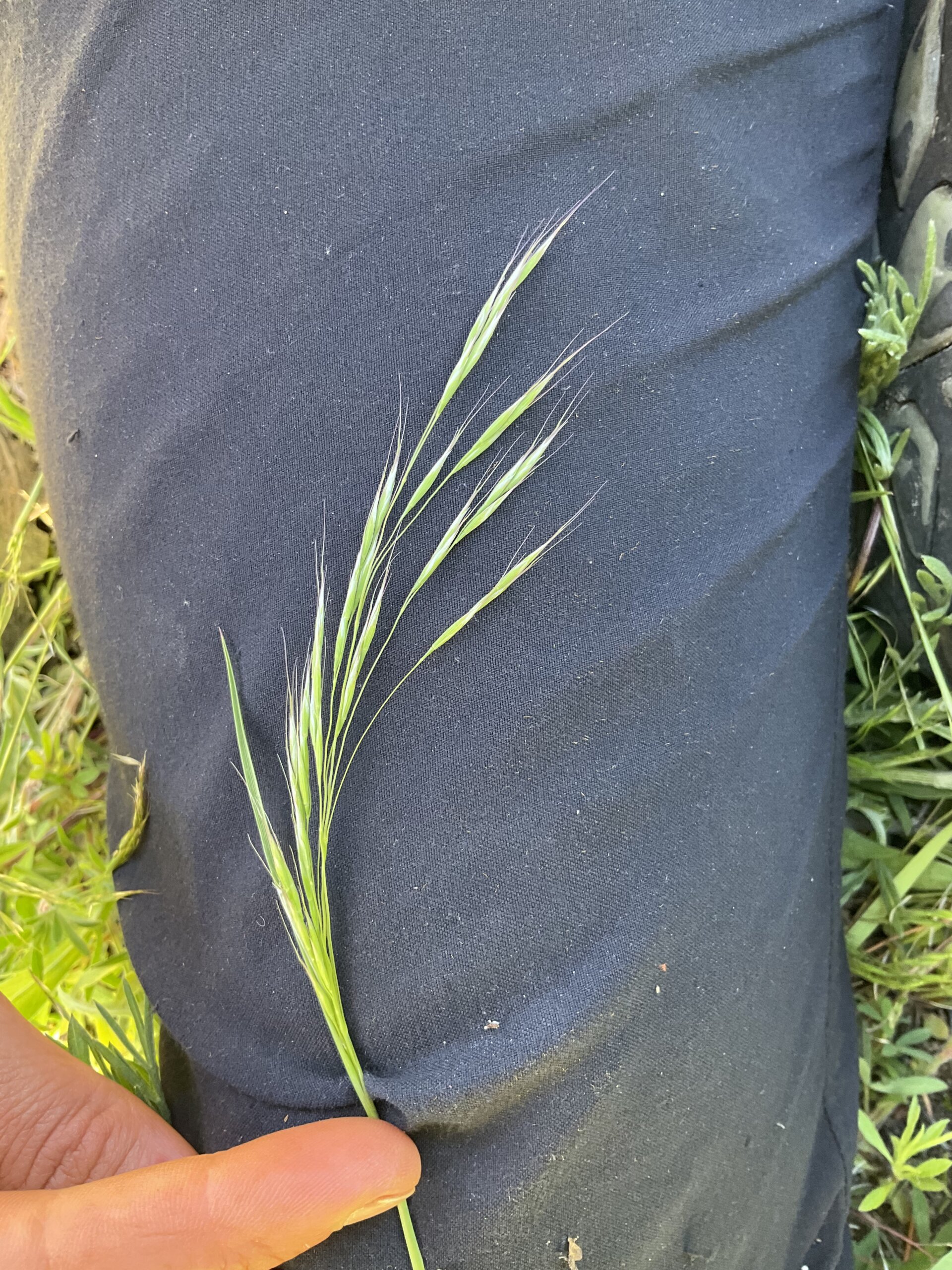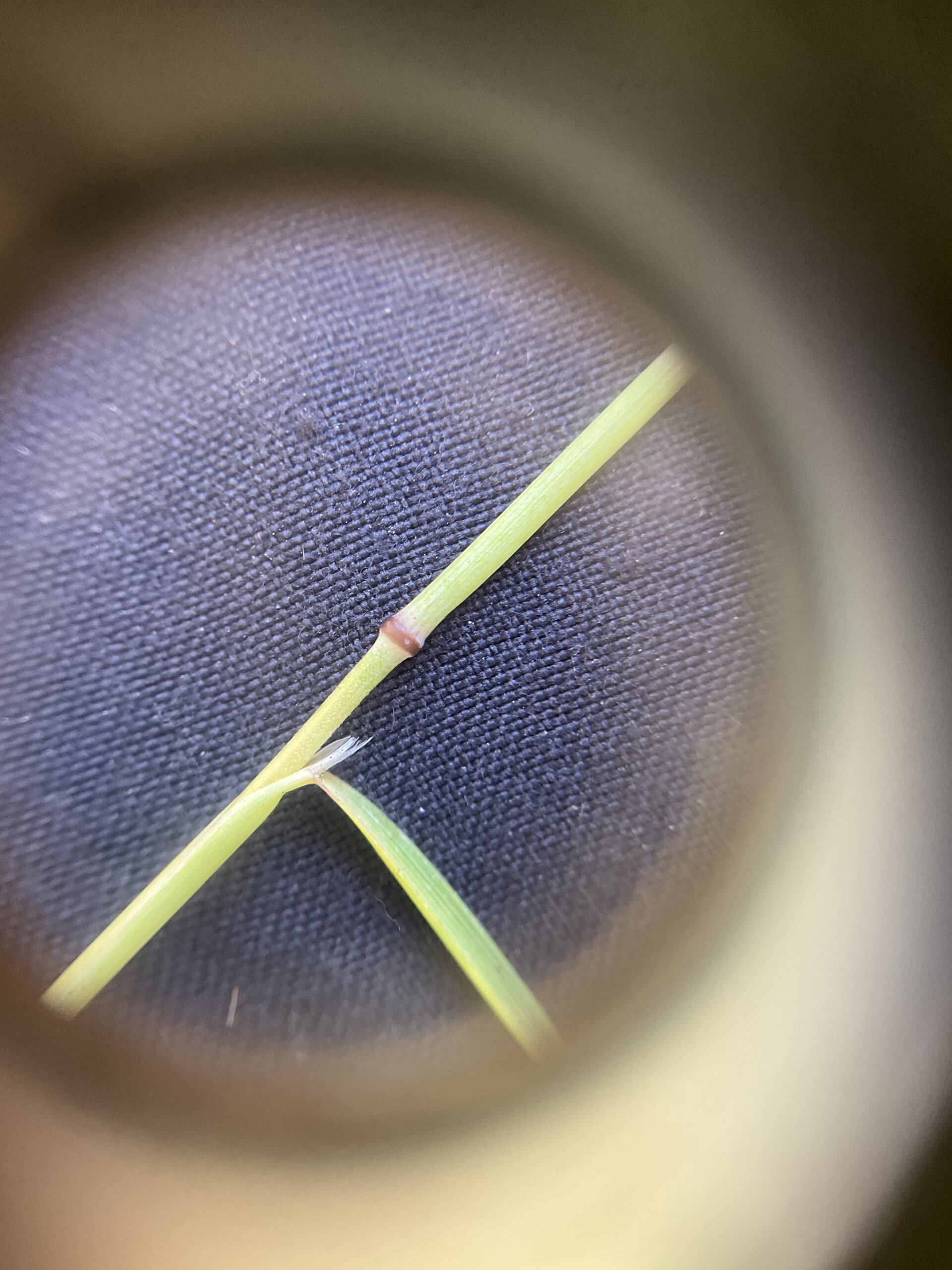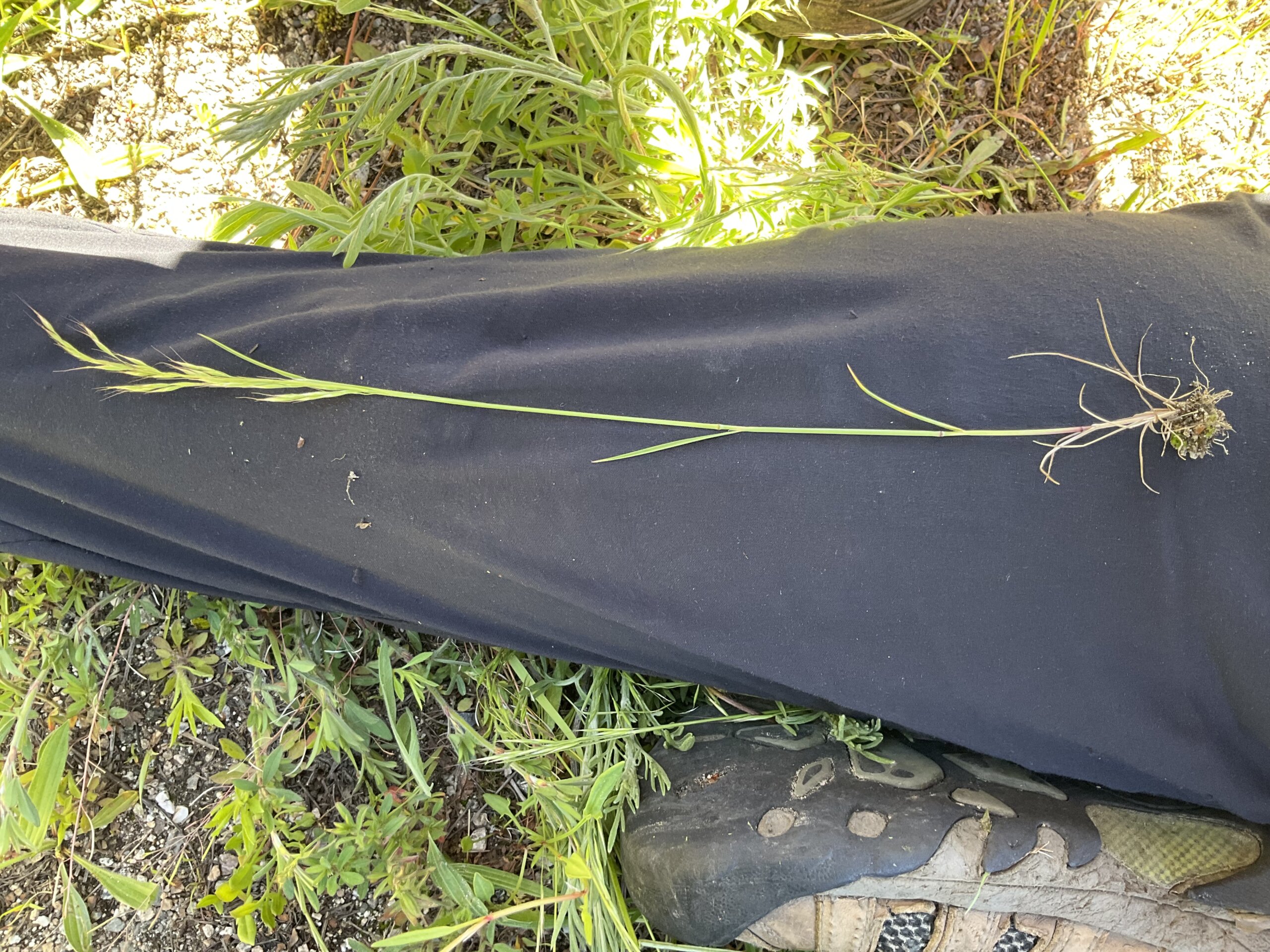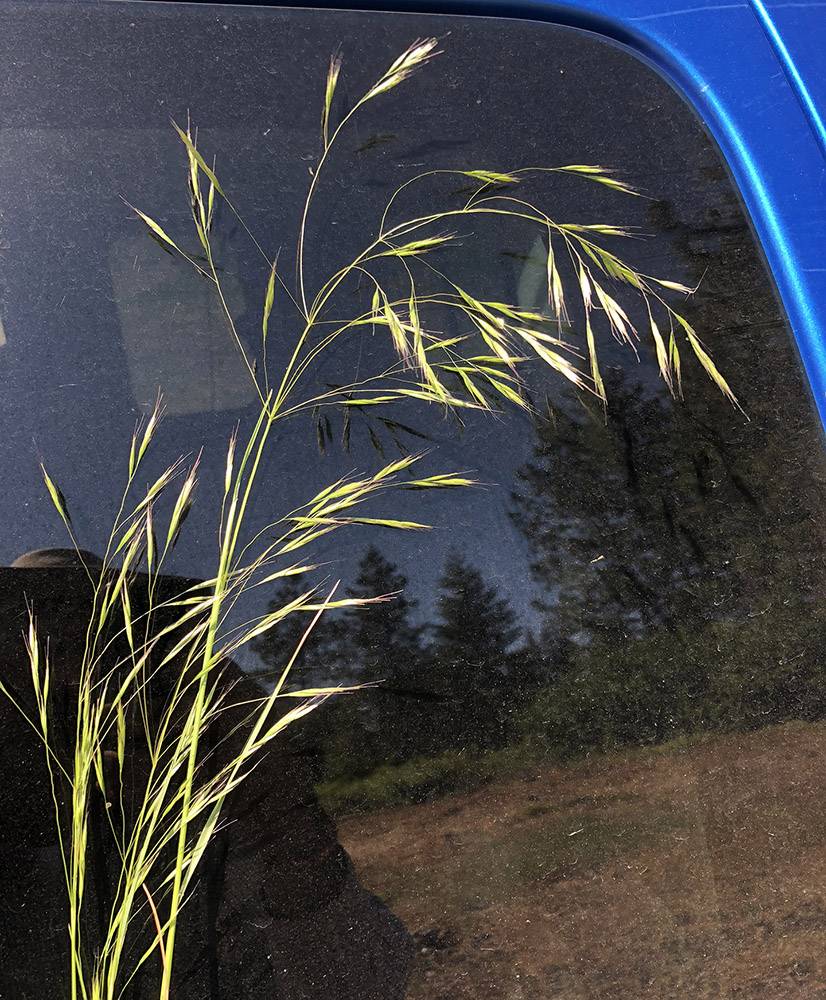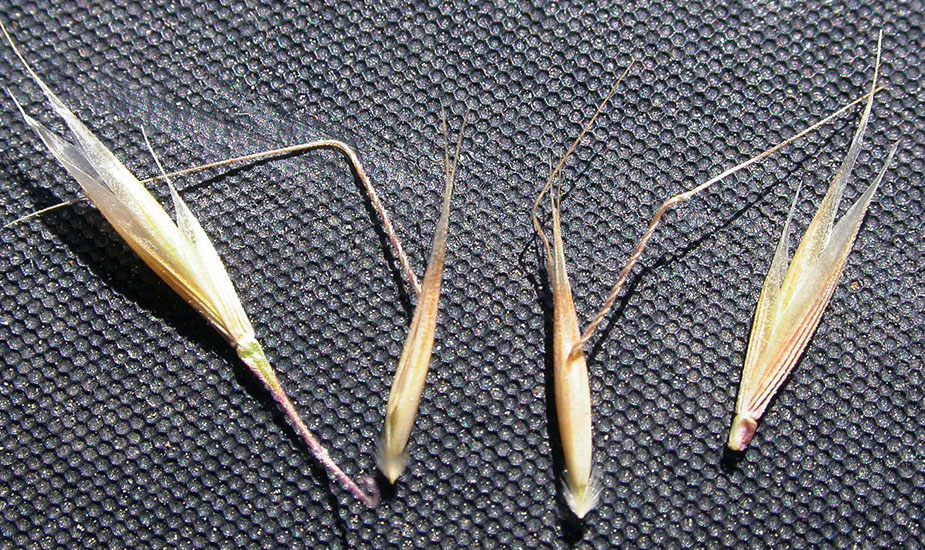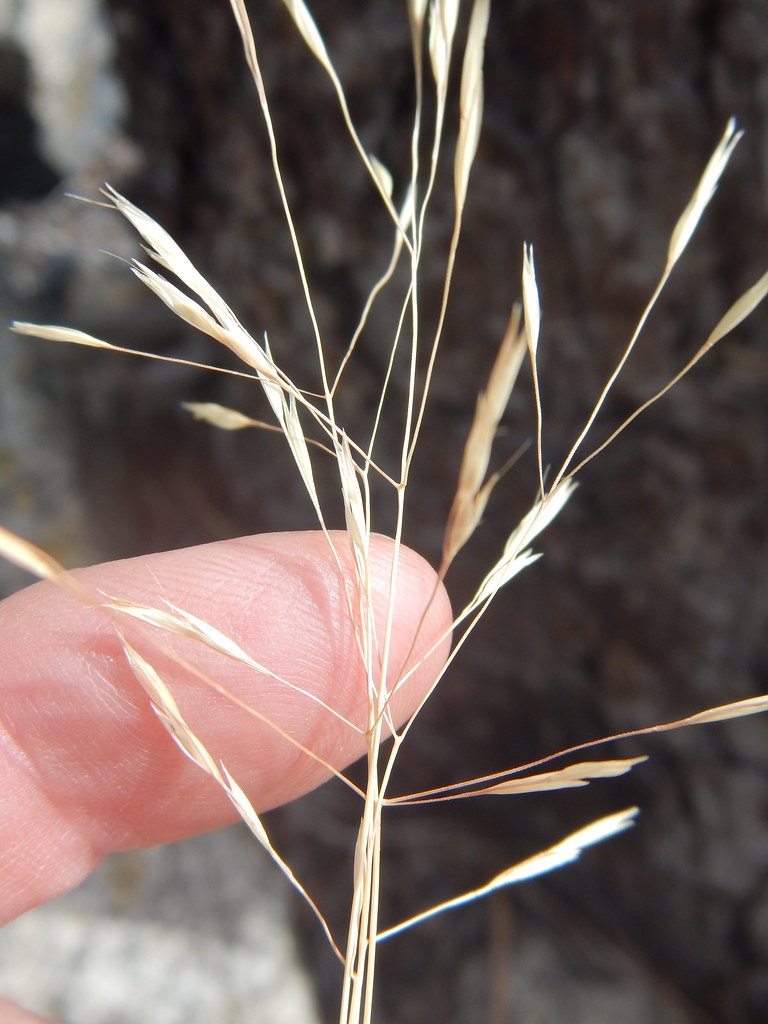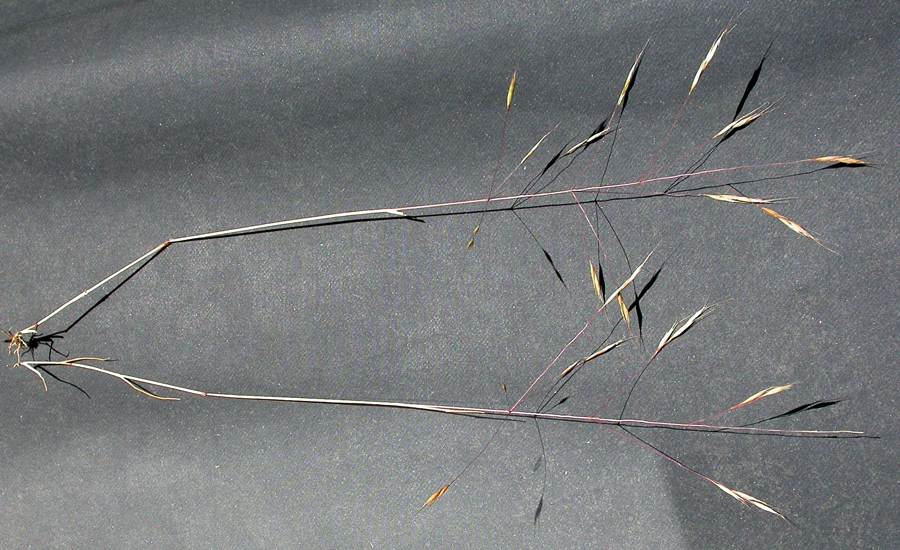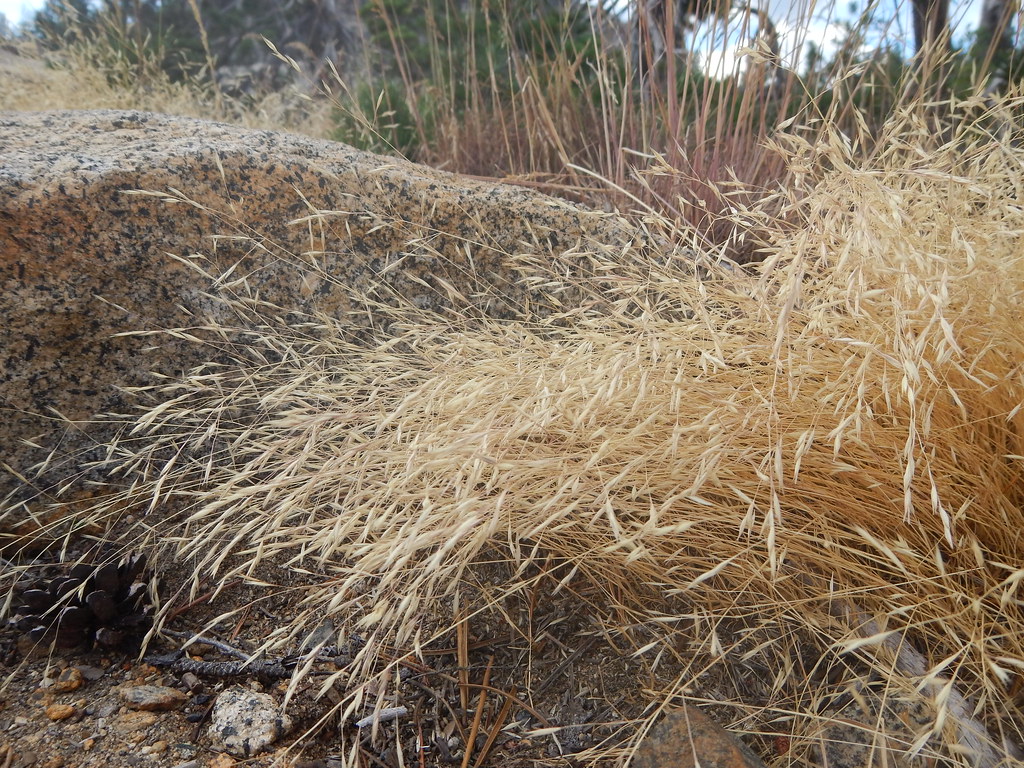 Young North Africa grass inflorescence.
North Africa grass reddish-brown node and long ligule at leaf base.
Full profile of north Africa grass (young).
North Africa grass inflorescence.
Bent awns of north Africa grass.
North Africa grass, open inflorescence.
Patch of north Africa grass.
Introduction and spread
Native to north Africa, south-central Europe, south Russia, and west Asia
Confirmed in BC in the West and Central Kootenays, Boundary, Metro Vancouver, and Nanaimo
Spreads by seed with 15-35 seeds/plant
Seeds are viable for at least 3 years
Seeds disperse by contaminated hay and grass seed mixes, machinery, vehicles, humans, and animals
Can re-produce inflorescence in the same year if cut or grazed
Consequences of invasion
Displaces native grasses and forbs, altering the plant community and reducing biodiversity
Degrades grassland habitats
Reduces forage for wildlife and livestock
Reduces agricultural yields
Increases soil erosion
Status in the CKISS region
Integrated pest management options
Prevention
Learn to identify this plant and report any sightings!
Immediately revegetate bare, disturbed soils with a non-invasive seed mix to reduce invasion.
Maintain a diverse, healthy native plant community to discourage invasion.
Do not move contaminated soils to a new area.
Clean your clothing, boots, vehicles, gear, and pets before entering/leaving an area.
Mechanical control
Hand-pull small infestations before seed set.
Mowing can be effective before seed set and before soils dry out.
Chemical control
Herbicides labeled for Ventenata management can be effective, but requires proper administration, timing, and possibly follow-up treatments.
Cultural control
Prescribed burns do NOT appear to be an effective control measure