Elaeagnus angustifolia
Description
Small ornamental tree
Small fragrant yellow flowers
Silver leaves and black bark
Edible silver fruit that resemble olives
Small thorns along branches
Introduction and spread
Native to central Asia and Eastern Europe
It is a popular ornamental tree that gardens have planted and now it had jumped the garden fence
Cut stems grow back vigorously
Birds and wildlife eat the fruit which allows excellent seed dispersal
Consequences of invasion
Russian olive is a very hardy plant, therefore it outcompetes native shrubs and plants
Fends off grazing animals with thorns
Alters nitrogen in the soil

Credit: Woody Invasives of the Great Lakes
Status in the CKISS region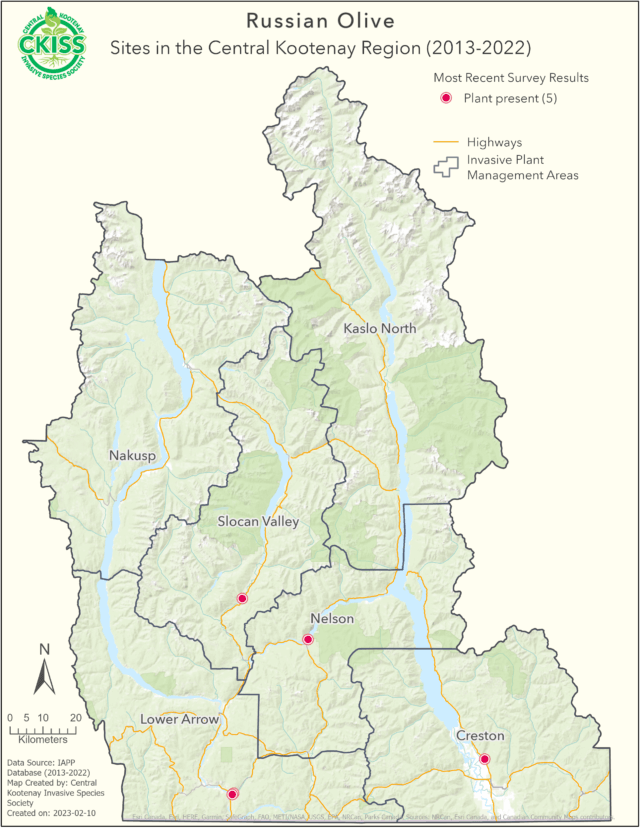 It has not been detected in the Kaslo or Nakusp Invasive Plant Management Areas (IPMAs).
It has been found with a limited distribution in the remaining IPMAs of our region, where eradication is the goal and is feasible.
Please report sightings of this species immediately.
To learn more about how CKISS classifies and manages invasive species, see our Invasive Species Priority Lists page.
Integrated pest management options
Prevention
Mechanical
Depending on it's size, the tree can be cut; however, this will need to be maintained yearly.
Very strong vinegar can be applied over cut stumps to slow growing process.
Remove seedling early, ensuring all the roots are removed as well
Biological
No biocontrol currently available in BC.
Chemical
It may be an option and is best after cutting the trunk off at the base. Contact a professional to see if it's right for you.