We are planning a public event for all trail users on May 25 in Nelson BC.  The event will promote the PlayCleanGo campaign, an educational and outreach program for outdoor recreationalists. The goal is to encourage outdoor recreation, such as mountain biking, while protecting valuable natural resources through changes in public behaviour.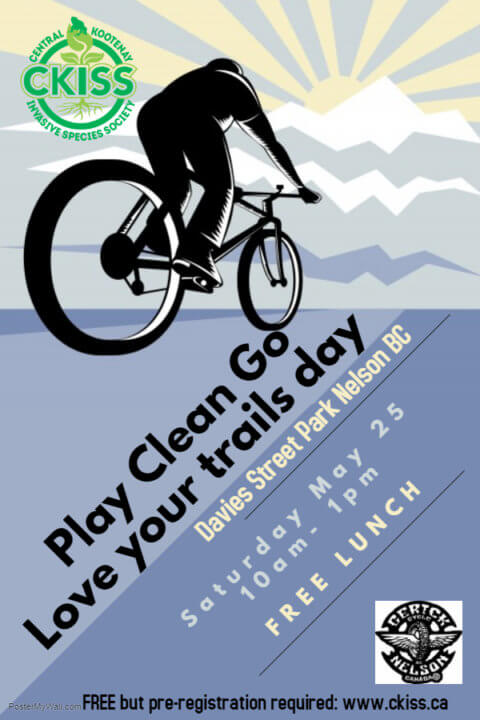 Studies have shown that activities such as mountain biking, hiking and dog walking can spread invasive species. Invasive seeds and plant parts can 'hitchhike' on bikes, footwear, clothing and gear and then be transported to a new area.
Why is this a problem?
Invasive species have the ability to out-compete native plant and animal species, affecting fragile ecosystems. The International Union for the Conservation of Nature have listed invasive species as the second greatest threat to biodiversity after habitat loss.  In the recent sweeping UN-backed report, hundreds of scientists found that biodiversity loss poses a global threat on par with climate change.
In addition to environmental impacts, invasive species can also threaten our recreation opportunities.  A local example took place in June 2016 when a portion of the popular Green Door mountain bike trail in Rossland was closed to reduce the spread of a high priority invasive plant.
Who should attend this event?
"This event is designed for ALL sorts of trail users, from people that are brand new to biking/hiking or experienced folks that have been using the local trails for decades," states Laurie Frankcom, Education Program Coordinator for CKISS. "If you care about preserving our vibrant trail system we encourage you to register for our Play Clean Go Love Your Trails Day. Come out and learn something new at the bike maintenance workshop, meet a hiking buddy, learn the names of native and invasive plants, help us remove invasive species in Davies St Park, and stay for the picnic!"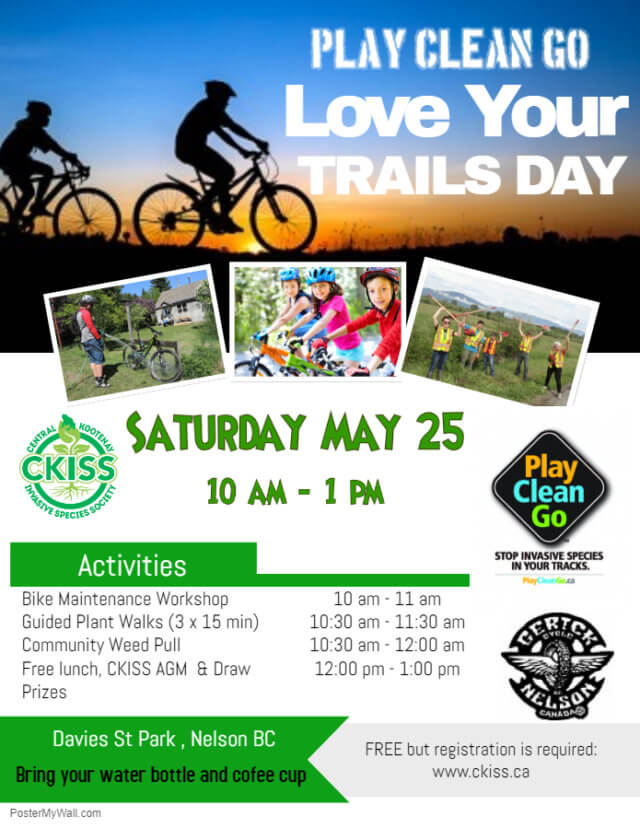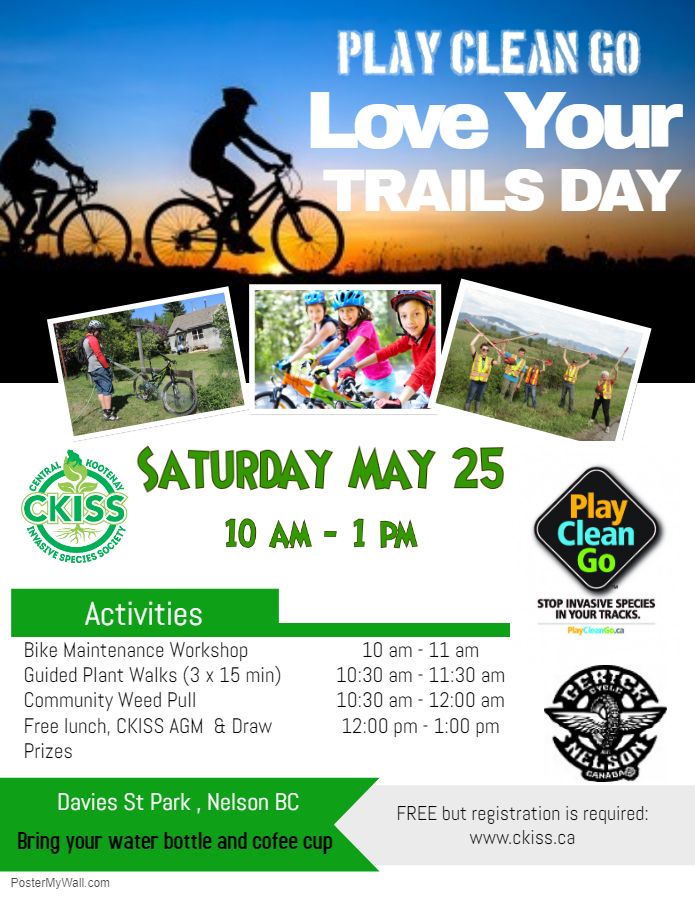 PlayCleanGo Love Your Trails Day Information:
Date & Time: Saturday May 25, 2019, 10 am – 1 pm
Location: Davies Street Park, Nelson BC
Activities will include (detailed schedule available on above):
Bike maintenance workshop with Gerick Cycle & Ski
Guided plant ID walk with CKISS
Community weed pull
Invasive mussel finding demo with K9 Major the mussel sniffing dog
Draw prizes
CKISS AGM and picnic lunch provided by CKISS
All activities at the event are FREE! If you plan to stay for lunch please click here  CKISS website events page and complete the registration form.
Thank You!
The event is made possible with support from the Columbia Basin Trust and the Fish and Wildlife Compensation Fund's Community Engagement Grant.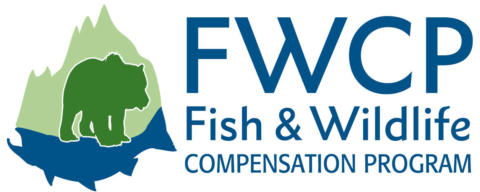 Fund.