What is Whirling Disease?
a microscopic parasite that causes skeletal deformities , causing fish to whirl in a tail-chasing behaviour.
potentially killing up to 90% of juveniles of trout, salmon, whitefish
Whirling disease has not yet been found in BC, but it has been found in neighbouring watersheds in Alberta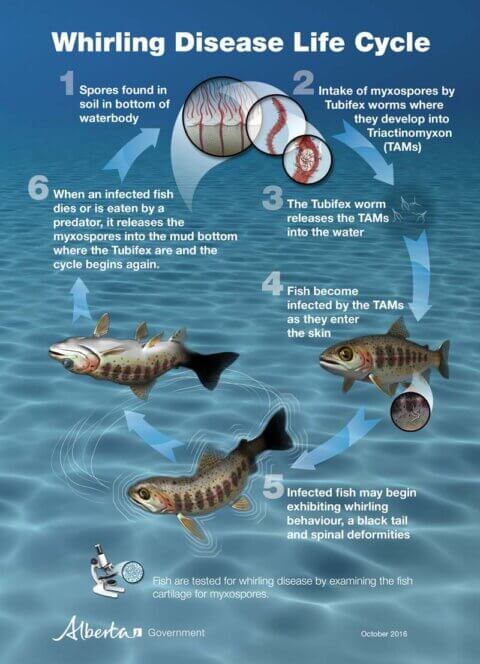 How can you help?
Become an Invasive Wise Angler! Attend the Freshwater Fisheries Society of BC and CKISS a FREE Virtual Learn to Fish program for adults.
Never move fish or fish parts from one waterbody to another.
Use fish-cleaning stations where available or put fish parts in the local solid waste system. Do not dispose of fish, or any fish parts, in a kitchen garburator
Before moving a boat or any equipment (e.g. hip waders, life jackets, kayaks, etc.) between water bodies, be sure to follow Clean, Drain Dry protocol. Use hot water (at least 90° C) & pressure washer.
What should I do if I find a fish that is exhibiting signs of whirling disease?
Call the RAPP line 1-877-952-7277